An exhibition has opened as part of the Molodist 2018 Festival. Oleksandr Dubovyk has launched a new book
6 June, 2018 - 15:24
Entering its 47th year, the Kyiv Molodist International Film Festival moved to spring, as if coming back to its origins. Apart from the choice of season, it demonstrates its striving for renewal through ideas, locations, layout of non-competitive programs and events. The latter include educational, commercial, and cultural programs.
The first gift offered by the cultural program is a mini-exhibition and the launch of a new book by Oleksandr Dubovyk, entitled A Bouquet and released by Sofia Publishing House. It took place during a master class created by the Utkin couple, which had become a mecca not only for the Kyivan intelligentsia.
The hero of the occasion himself, I mean Dubovyk, is not only a painter known far beyond Ukraine whose works grace the best museums of the world and private collections as well as the creator of a mysterious and polysemantic sign of bouquet, but also the author of multi-dimensional books entitled Word and Word-2. The new book offers an aesthetic reading experience in the highest sense of the word, which is organically combined with a philosophical reflection on the drawings.
The origins of the birth of this strange book are lost in the mystery of New Year's Eve, when Dubovyk received as a gift a notebook with black pages which was bound as a book. Armed with a white marker, it was this book that the artist filled with reflections, poems, drawings. Already at the end of January, he showed this "homemade trifle" to his friends. They stated in unison, like a chorus, that it needed to be published! The endeavor was not easy and not that cheap, not to mention the complexity of the process itself. However, could it really stop or scare away Dubovyk's muse, inspiration, and energizer, I mean his wife Iryna?! Meanwhile, director general of the festival Andrii Khalpakhchi immediately realized how this book launch would add to his new concept.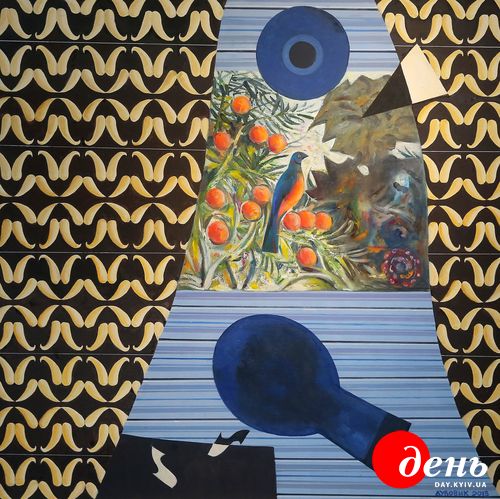 "THE LOVE FOR 12 ORANGES", 2013
"Life is a sum of moods," the artist says, "if something is perceived as an insight, it means that reality is inspired. And to experience time as a vivid event means to live. And at the purely spiritual, human level, we simultaneously see, hear, perceive, recall, and think about the future, and all this is combined into one block, called 'the present.' However, A Bouquet is a continuous concept flow, not only a self-sufficient monad which is ready to explode, similarly to a bomb, with new knowledge and performances, and it is contained in itself. The whole culture is a bouquet, something that is concentrated in this 'bomb.' And this bouquet, it turns out, is not the only one of its kind."
At the book launch, fellow artists, art critics and journalists, diplomats, the festival's international jury and its guests tried to solve the riddle of the black-and-white bouquet. Volodymyr Solianyk created jazz improvisations that organically complemented visual perception. And now, Dubovyk's book is available for every willing reader. Believe me, it will fill your life with new symbolism.