Vadym Fedorovych is holding a solo exhibition of his sculptures
8 September, 2015 - 12:33
The exhibition is hosted by the Shovkunenko Kherson Regional Art Museum. Despite the artist's long creative career, Fedorovych is holding an exhibition in Kherson for the first time.
He is a native of the town of Tsiurupynsk, located near Kherson. The artist modeled since childhood, going on to study at the faculty of indoor sculpture of the Shevchenko Republican Art College and the faculty of applied art ceramics of the State Institute of Applied and Decorative Arts in Lviv.
"Fedorovych has worked both in the field of indoor sculpture, small plastic forms, portrait images, and in the field of monumental, decorative, and park sculpture. Subjects of his works have ranged from religious images and allegorical compositions to characters from the nation's history and animalistic plastics. To create his works, the master uses artificial stone and various synthetic materials that mimic marble, brass, bronze. Fedorovych's works are markedly refined in their artistic style and feature highly personal interpretations of diverse subjects," the regional art museum's resident art critic Vlada Diachenko said.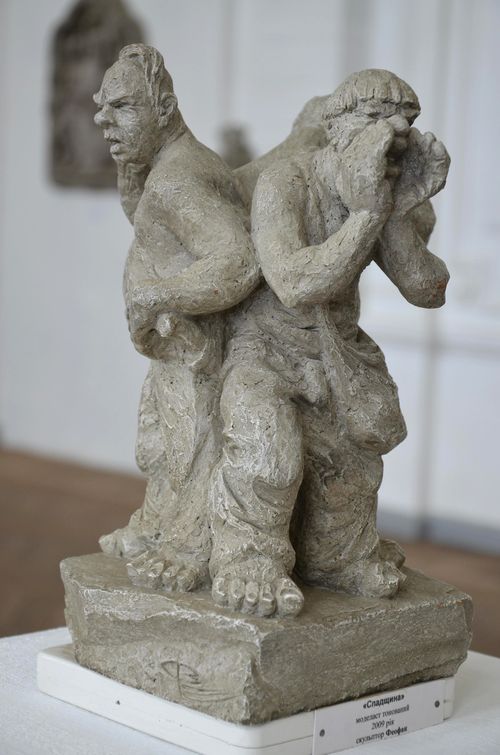 HERITAGE, 2009 / Photo by the author
The sculptor participated in many exhibitions in Ukraine, Germany, Poland, and the US over his career in the art. One of Fedorovych's most prominent works is the interior decoration and iconostasis of the Church of St. Mary Magdalene in Odesa. To celebrate the 2,000th anniversary of Jesus Christ's birth, he created a monument and monumental high relief panel featuring 14 Stations of the Cross and entitled Jesus Christ's Way of the Cross to Calvary, which has been installed in St. Alexander's Cathedral in Kyiv.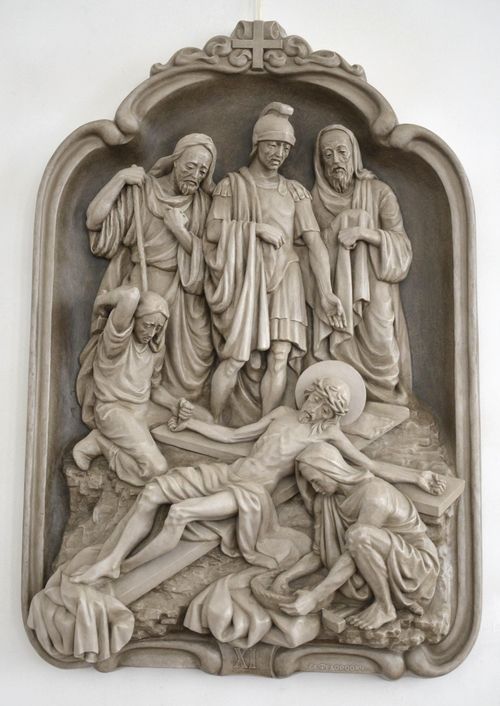 MOST OF THE WORKS ON DISPLAY FEATURE RELIGIOUS TOPICS
At the Kherson exhibition, Fedorovych has presented 54 works. Most of them feature religious subjects. In particular, the author depicts in detail Jesus Christ's sorrowful way to the place of his execution, tortures he suffered in the hands of his guards, and evil demons. There are also images of the apostles Peter and Paul, St. Mary with Child, and others. In addition, some of the works on display feature Cossacks and portray philosophers, scientists, etc.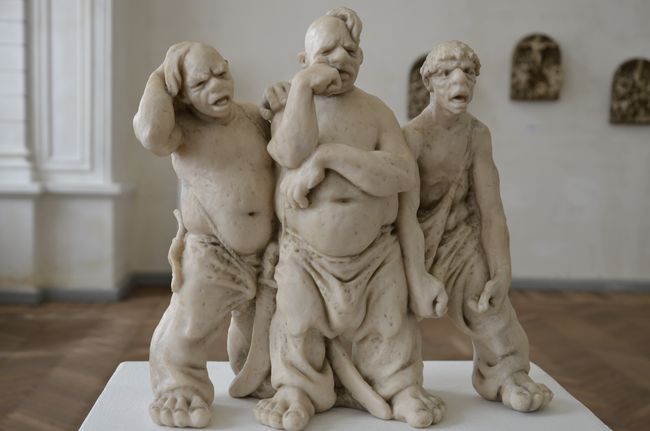 When asked why he had not been able to hold at least one exhibition in Kherson in all these years, Fedorovych said that his life involved too much international travel for it to happen. "I worked almost exclusively abroad in Poland and Germany till 2000. Accordingly, all my works have stayed there," the sculptor explained. "Having received a workshop in Tsiurupynsk, I returned to that city. My works accumulated, and so it finally happened that the regional museum offered me a chance to show off my works in Kherson. I wrote no annotations to these sculptures. My task is to create artworks. I hope the audience will ponder over them, find something close to their minds."