On the second forum of innovative technologies held in the Ukrainian capital
16 March, 2016 - 17:32
Recent advances in the field of education, medicine, robotics, agricultural and military technologies were displayed at Ukraine's second innovation forum, called InnoTech Ukraine 2016. The exhibition and conference event ran for two days at the Olimpiisky National Sports Complex in Kyiv and attracted almost 4,000 visitors. The lion's share of them was comprised by people who were interested in seeing new ideas offered by Ukrainian developers.
"Compared to last year, the number of participants increased. We were very pleased to see international experts joining us this year, and not only on our initiative, but on their own as well. So, it turned out to be not just a national forum, but rather one offering international experience. People who joined us came from France, Poland, and the US," the conference's co-organizer Yevhenia Klepa told us.
The novelties of this year's forum included the national record-setting mass launch of copters (drones) which was recorded by representatives of the Book of Records of Ukraine. The event involved 22 drones, which took turns climbing into the air for nearly 15 minutes.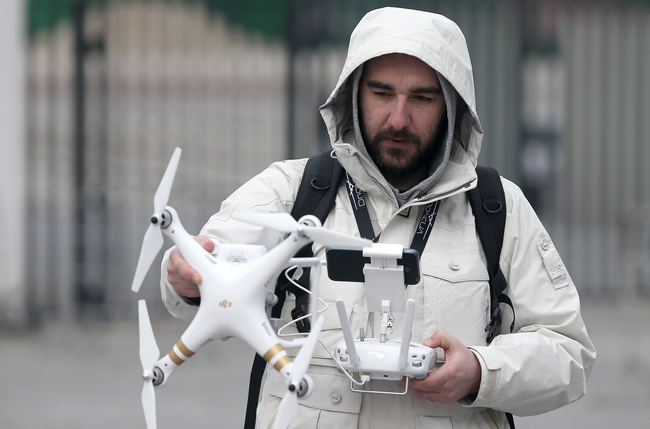 THE UKRAINIANS HAVE SET A NEW RECORD IN THE MULTIPLE ON-THE-SPOT LAUNCHING OF QUADROCOPTERS. THE COMPETITION INVOLVED 22 DRONES
Traditionally, much attention was paid to robotics, because it is the fastest growing field in the world, and Ukraine is also taking part in this progress. So, developments such as NAO (a true android, a human-like robot the size of a child which can see and hear, recognize human faces and understand the speech), MAX, which combines the technology of telepresence and interactive entertainment device communication, and Mario, a unique interactive suit with robotic voice and LED illumination of all elements of the body – all of them moved through the special demo zone. Visitors could also "talk" to globally famous astromechanical droid from the Star Wars universe R2D2 and humanoid robot Dzhyvko, developed by Boteon, the Kharkiv-based center for robotics.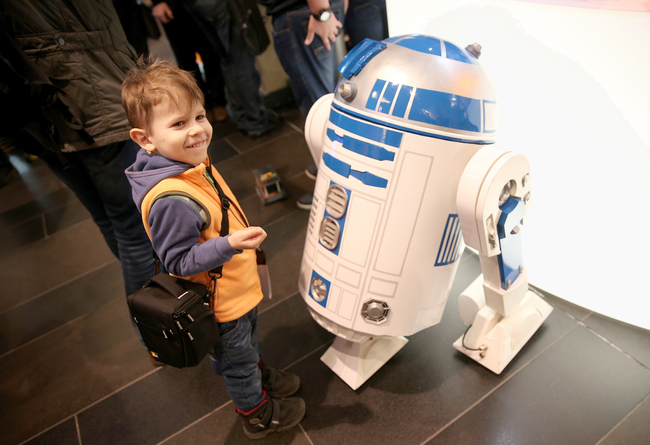 In addition, Smiles.Osvita company presented in the exhibition's demo zone its new development, the School Beacon system. As The Day learned from the company's client manager Pavlo Machuliansky, the development helps to simply and efficiently monitor school attendance. The small beacon that the child can carry around informs parents whether their child is at school, provided that a module that transmits the signal has been installed in the latter location. According to Machuliansky, schools can thus avoid installing turnstiles, while the beacon system can be used voluntarily.
Meanwhile, Denys Kovalenko from Dnipropetrovsk showed a set of software that is designed for automated artillery fire control and is called ArtOS. "We automate all processes of data exchange and calculations from the time the target was detected until the gun had its shot," Kovalenko told us. According to him, this will help reduce data exchange time from 15 minutes normally needed now to less than a minute. Currently, the system is learning, and soon it will be available for the field service. The developers offer free installation of ArtOS on any tablet.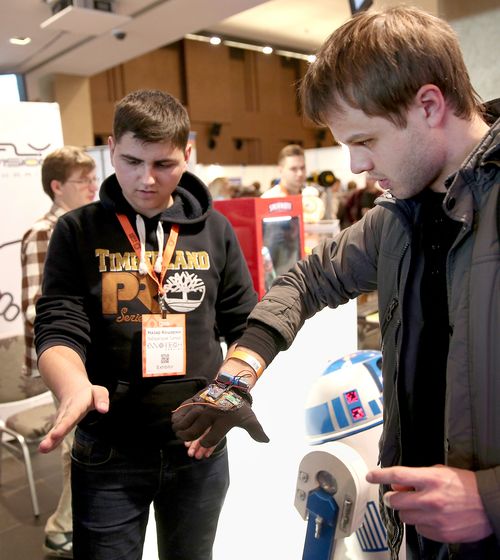 KYIV POLYTECHNIC'S LAMPA LABORATORY DESIGNERS SHOWED ONE MORE GESTURE TECHNOLOGY PRODUCT – A MACHINE AND A GLOVE THAT CAN OPERATE IT
In addition, one could see there the latest technology of 3D-printing, while overall, more than 20 different companies or developers came to the demo zone to present their products.
The two-day conference was equally traditional for the event. This year, reports presented by Ukrainian and foreign experts were divided into six sections: innovative trends, education, investors, startups, medicine, and IT clusters.
By the way, the last topic has become much more popular in Ukraine over the past few years, especially under conditions of the brain drain, when IT professionals go abroad en masse.
For example, among 24 regional centers of Ukraine, only 6 have their own IT clusters at the moment: Lviv, Odesa, Cherkasy, Kharkiv, Dnipropetrovsk, and Lutsk. They were created in the last four years. "We decided to come together because we understand that there are many problems which we cannot solve by doing it alone. We must work hard to create conditions and attract people, so that they not only come here, but do not leave as well," we heard from Yulia Sulimova, the CEO of the Odesa cluster, which is Ukraine's youngest.
No less exciting area for development is medicine. Ukrainians already know projects such as free doctor search service Doc.ua or telemedicine, allowing a doctor to remotely advise the patient online or conduct a preliminary examination.
"In 2015, 28 percent of companies that were involved with medicine or public health in the world, including Ukraine, were using technologies to provide easy data transfer between different devices. Looking at global trend assessments offered by analysts, annual growth in the number of companies using these solutions will average 19 percent till 2020," Vodafone Ukraine's business market department's head Leonid Polupan told us.
Unfortunately, these technologies are not yet well developed in Ukraine. On the other hand, it gives developers more space for creative solutions. As for the most interesting domestic developments in the medical field, we will cover them in The Day's coming issues.