The Khanenko Museum started its fall season with "The Shadows of the Winter Garden"
26 September, 2017 - 11:05
Joyful, ironic, and melancholic, works by graphic artist Kostiantyn Kalynovych are different in mood, but all of them feature fairytale imagery. These pictures are permeated with allusions to paintings of the old masters, including Jan Vermeer, Hendrick Avercamp, and Hieronymus Bosch. And the key symbol there is the time. It appears as The Wheel of Time, which manifests itself in a ghostlike manner before a couple on the snow-covered riverbank, and as the omnipotent Great Watchmaker. The time precipitates in the snowflake form and melts, traditions, clothes, and everyday life change, but commonalities between people who lived 400 years ago and our contemporaries are not as few in number as it may seem. Engravings, gouaches, and watercolors by Kalynovych can now be seen at the exhibition "The Shadows of the Winter Garden," which has opened the new season at Bohdan and Varvara Khanenko National Museum of Arts.
Kalynovych works in Kyiv, constantly takes part in exhibitions in Ukraine and abroad, and has won artistic awards of many countries including South Korea, the US, Britain, France, Turkey, Belgium, and China. One of the initiators of his exhibition at the Khanenko Museum was the collector and graphic artist Andrii Solomenko.
"The initiatives of our museum include holding exhibitions of artists who are our contemporaries and work with themes or images of classical art," said Olena Shostak, the curator of the exhibition and head of the research department of the Khanenko Museum. "For example, Kalynovych turns to imagery of medieval artists, to the Gothic art, to masters of the 17th century. A visitor who does not know this will see harmonious works that are interesting to look at. Meanwhile, if a visitor understands classical art, they will see additional content in these works. And the more people know about such symbols, the more interested they will be in looking at these works. Therefore, we will arrange both artist-led excursions and several educational events to coincide with the exhibition."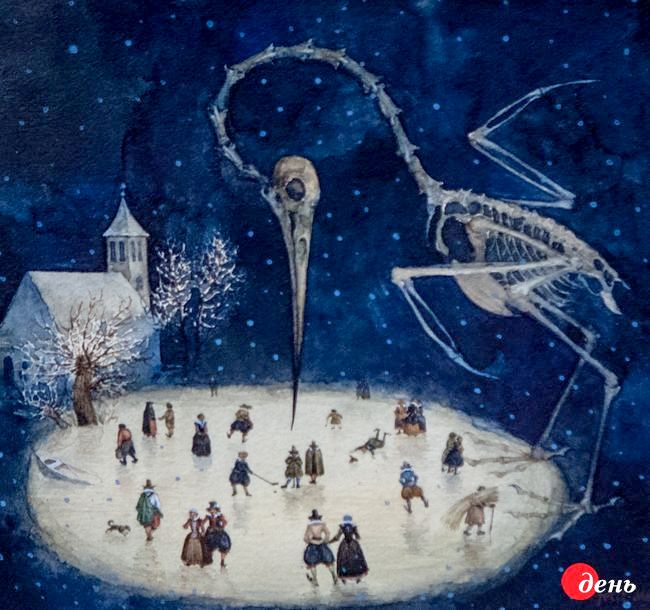 IN HIS WORKS, KOSTIANTYN KALYNOVYCH FREQUENTLY REINTERPRETS IMAGES FROM PAINTINGS OF THE DUTCH ARTIST HENDRICK AVERCAMP. ONE CAN SEE IT IN THIS WATERCOLOR WHICH IS EVEN NAMED FAREWELL, AVERCAMP III
Winter is Kalynovych's favorite season, and events of many of his works unfold on a calm snowy day or, conversely, amidst a blizzard. "In my opinion, the image of the winter evokes many different emotions, and the lyrical mood is a significant component of it. I am more attracted by precisely these things: lyrics, memories, some pleasant feeling. Sadness is also present, but there is not much of it," Kalynovych said.
The primary inspiration for Kalynovych is Avercamp, a 17th-century Dutch painter. You have probably seen winter landscapes created by him, at least in photos or reproductions – for example, his multi-figure skating scenes. Art historians say that the Dutchman especially loved such subjects because he often spent his free time in that manner when still a child. "When I first saw Avercamp's works, I remembered how we skated as children. Our forest, our grove got flooded in the fall, and it froze in winter, making it possible to skate, play hockey, and so on. And I was so surprised by this overlap between the 400-year-old experience and the present! This is what I have tried to express in my work," Kalynovych told us. "Another common feature of life 400 years ago and today is, perhaps, made of some simple feelings. Love, memories, and some feelings from childhood have all remained as they were. We have some more gadgets and electronics, while the human soul has remained the same."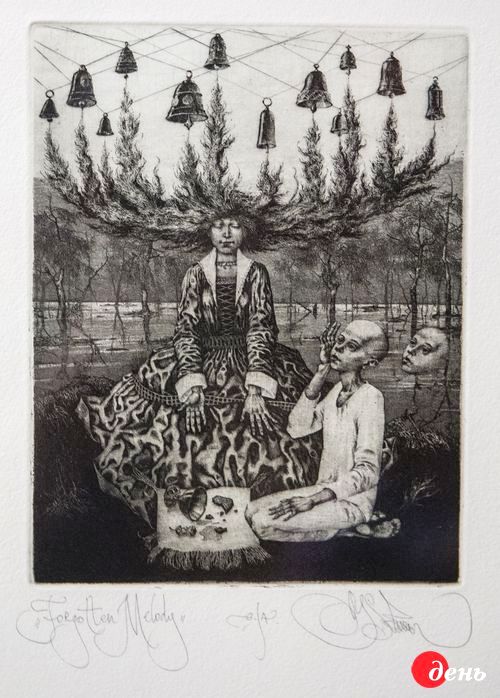 The exhibits of "The Shadows of the Winter Garden" include the tools used by the master and copper plates, both "empty" and already engraved. "Our visitors are often interested in how this or that work was produced. We identify it as, for example, a copper engraving, but people see the engraving already on paper. All of us drew with watercolors and some paints as children, all sculpted, for example, with plasticine. However, not everyone knows and understands well how to do an engraving. We told the artist about this, and he provided his tools for the exhibition," Shostak explained.
Kalynovych prioritizes feelings which his works evoke. The artist tries to convey a certain "ripeness" of a moment which is filled with emotions. He said: "What I like in the works of Avercamp is the fact that, for example, he shows people skating, and practically nothing is happening there. It is so good! Here they are skating, and there is some sort of magic in it. My chief subjects are Avercamp, snow, ice, and people who have fun and have no care in the world. It is so cool!"
"The Shadows of the Winter Garden" exhibition will run at the Khanenko Museum in Kyiv till October 8.