Oleksandr Dubovyk's solo exhibit is underway at Taras Shevchenko National Museum
17 November, 2014 - 17:52
Frankly, it has been a long time since I saw as many people as at Oleksandr Dubovyk's vernissage which took place at Shevchenko Museum. Artists, collectors, businessmen, scientists, doctors, and musicians were present there. They all are connoisseurs and admirers of his creative work.
Artist, writer, thinker, and philosopher, Oleksandr Dubovyk has been well known far beyond Ukraine. He has long ago won recognition in Europe and America. Still, a solo exhibit at home is always an exciting event for the artist. The artist entitled it symbolically, "Dialogs," because both in life and his creative work he is able to listen and persuade.
Over 70 works created in the period from the 1950s till present day are on display at the exhibit. However, the artist's personality is so consistent that, in spite of the long time range, there is no eclectic in his works. As you look at the pictures, scan time, you understand how great the artist's gift of prediction is. The works are based on a complicated system of visual codes which take root in the world culture from da Vinci to Malevich, but they are brightly individual and enable everyone willing person to see and get to know.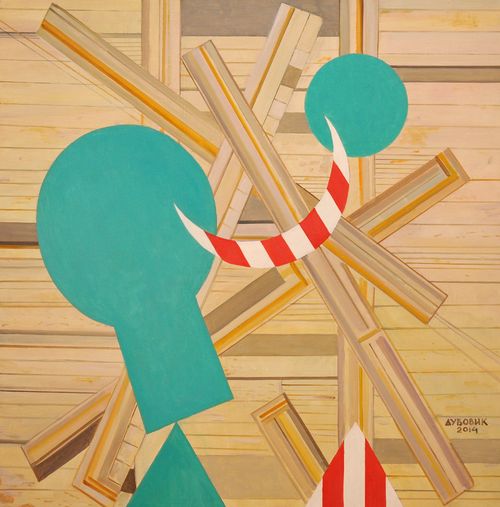 EVERYTHING IS GOING TO BE FINE
"Windows" radiating life (this is a series of pictures dedicated to seasons of the year) give positive emotions, Victors evoke both smile and sadness, "Dialogs" teach us the nobility of communication, whereas the turquoise in the picture Everything is going to be fine dated 2014 is radiating hope.
Hopefully, the book WORDS-2 which Oleksandr Dubovyk is preparing with his wife, his muse and long-time engine of his creative work, Iryna Dubovyk, will give us another key to dope out the "Dubovyk code."
Please, come to the exhibit and you won't regret.
IMPRESSIONS
Oleh PINCHUK, sculptor:
"I'm overwhelmed with emotions. I have known this artist for a long time. Every time I see his works, they make me enter into intellectual trance. His ability with the help of color and shape to depict on the canvas the completeness of the world, make me a viewer who is really captivated by his talent. This is a positive talent, positive energy, good will, which is filling our life with optimism. I have known Sasha since mid-1980s, in the 1990s we had exhibits in France, visited one another, and I have always been astonished by his simple attitude. Not the simplicity of his creative work, but simplicity, to be more accurate, purity of his artistic soul. His creative work is not simple, it consists of a multitude of knowledge, associations, notions, and experience. All this is united in the square meter of pictures. In his life he appears to be taciturn and calm, he has the power of the word and is a real connoisseur of contemporary art. He is not just an artist who has a good professional school, not just a hardworking person who has become, in my opinion, the number-one artist in Ukrainian art, for me he is not a patriarch, but a powerful and very promising talent. He has a young soul, he is attractive, and his muse, his source of inspiration, Iryna is near him. I'm sure that we will receive many bright impressions from Oleksandr Dubovyk's exhibits in the future."
Dmytro STUS, director of Taras Shevchenko Museum:
"Unfortunately, over the past 23 years culture in Ukraine has not been developing systemically. There have been not very broad circles of people who seek for knowledge, and as far as possible they were able to 'grasp' something that was in their field of view. We have set before us the task to draw to museum as many people as possible, because unfortunately even many Kyivites who walked along the Shevchenko Boulevard were unaware that a museum was located nearby. We have started to cooperate with real masters. We have held an exhibit where the book by Ada Rybachuk and Volodymyr Melnychenko was launched. Recently we have held an exhibit of Maria Prymachenko's works. The live readings of Ukrainian writers take place here as well. And now we familiarize the audience with the outstanding artist, Oleksandr Dubovyk. I'm proud of such personalities within the walls of our museum. We broaden the span of our activity all the time. On the initiative of the employees of the museum we have launched the project connected with handicapped children, both, artistes and children who are hearing impaired. I think that the state owes to these children. And it should not plead difficult circumstances. As for this exhibit, when I came to work to the museum, I could not even imagine that we would host the exhibit of an artist of Oleksandr Dubovyk's level. And this is reality."
Larysa SKORYK, architect:
"I have known Sasha Dubovyk as well as his work for a long time. When he worked in the underground, I understood that he was absolutely unique. No one can compete with him. And the most wonderful thing is that no one can be an epigone of his direction. Because Sasha's creative work is genuine, it is filled with his unique spiritual perfection. This is an amazing view of a person on the universe, the special harmony sent to him and which he will still have to explore. If we read Catechesis and Palimpsests by Oleksandr Dubovyk, it will become clear that he understands the great people, because he was born a great philosopher. 'Creative work is apogee of intellect,' Ortega y Gasset said. These words can be applied to Dubovyk, absolutely and completely like divine harmony."