Works of 11 Ukrainian artists displayed in France
16 May, 2017 - 11:50
Seventy works of some brilliant and original Ukrainian artists are shown in France for the first time at the Ukrainian Cultural Center at 22 Avenue de Messine, Paris. (Incidentally, this building once belonged to Alain Delon who lived here with movie star Romy Schneider).
Those taking part in this project are well-known artists who have participated in various Ukrainian and international plein-air sessions and other art projects: People's Painter of Ukraine Volodymyr Koziuk, Oksana Svizhak, Inna Pantelemonova, Tetiana Muchychka, Alina Haieva, Olesia Lyshaieva, Olha Zaitseva, Olha Samar, Nadia Horbatova, Kostiantyn Koposov, and Chen Van.
As is known, impressionism was born in Normandy, "a heaven on Earth," as an art trend, and spread almost all over the artistic world, still remaining one of the most popular art styles. Impressionism occupies a particular and so far little-studied place in the history of Ukrainian painting – Soviet-era artists were artificially kept from its influence for ideological reasons. Consequently, it flourished brightly in the works of modern-day artists.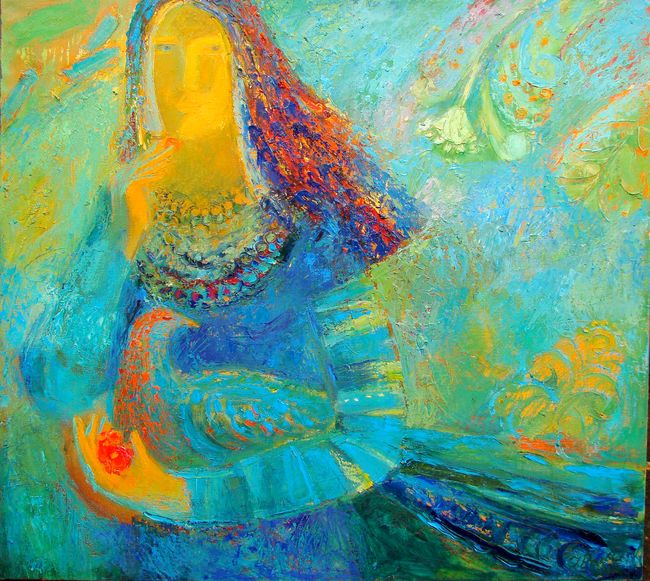 INNA PANTELEMONOVA. MORNING IN THE GARDEN
Fluidity of time, changeability of light, easiness of perception, purity of nature, clarity of the color palette, a photographic focus on "here and now," the elation of observation, and the philosophy of noninterference into conflicts – these eternal components of what makes impressionism attractive will sprout like fresh shoots in the works of Ukrainian artists.
The Ukrainian artists will have a very intensive program that includes a sojourn in Paris and trips to Rouen, Giverny, and Mont Saint Michel – "holy" places for impressionists. Project organizers have prepared an interesting experiment for the artists: they should all depict simultaneously an object that became very well known thanks to the works of prominent impressionists. This may be the famous Cathedral of Rouen or a Giverny nook… Also on the program was a mass plein-air session held on May 8, Europe Day, on a fabulous lawn in Bagnoles-de-l'Orne in front of an ancient castle that serves as town hall now.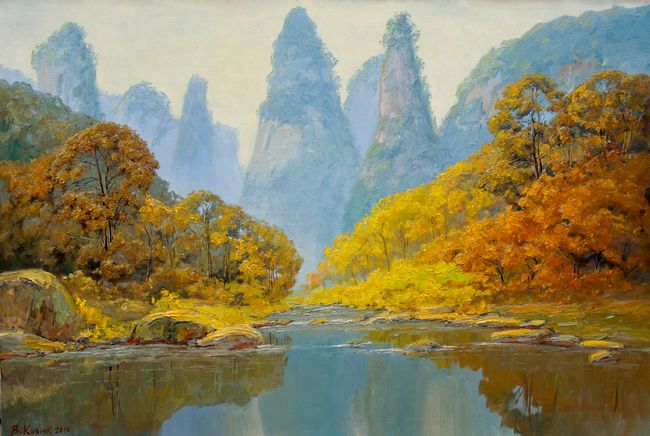 VOLODYMYR KOZIUK. A GOLDEN BROOK
The event that actively propagates Ukrainian art abroad has several important components:
• the group of Ukrainian painters is the first delegation to be received at the new art residence Chateau des Arts run by Mme. Olena Mistal, a former Kyivite. This uncommon lady is founder of the Ukrainian Paris School, a public and cultural activist, who has made an invaluable effort to propagate and advance Ukrainian culture in France in the 20 years of her life in that country.
• for the first time, the Ukrainian Cultural Center, which appeared recently on the culture map of Paris as a full-fledged exhibition ground, is hosting an exhibit of contemporary Ukrainian impressionist painting;
• for the first time, Bagnoles-de-l'Orne, which has a very interesting history as the best known and most prestigious European spa once visited by all aristocrats of Europe, is receiving, 100 years later, our compatriots who have brought in such a considerable and interesting cultural project;
• for the first time, a Ukrainian group is visiting the museum of impressionism in Rouen, where it will confirm its intention to take part in the International Impressionist Festival in 2018 with a conceptual art project.
"The project, supported by the Ukrainian Embassy in France, the art residence Chateau des Arts, and the city council of Bagnoles-de-l'Orne, is expected to win the sympathy of the French art community, critics, and the general public in a short time and to give Ukrainian artists an opportunity to increase their capitalization in and outside Ukraine," project manager Oksana SHEVCHENKO emphasizes. "It is the integration project of a new time, a new century, a new artistic dimension, and a new Ukraine."