St. Sophia of Kyiv hosts an exhibit of ancient techniques – fancy enamel, glass, and bronze work
26 March, 2018 - 16:51
To acquaint the general public with the "tandem" of important existential elements – the fire which the Bible says embodies the reproducing force and the light for which all the living creatures aspire – the National Sanctuary "St. Sophia of Kyiv" and the Ukrainian Directorate of Art Exhibitions have launched the "Fire and Light" project. While "fancy glass" or "fancy enamel" are still associated with only the period of Kyivan Rus', it is just the right time to see these nontrivial arts that are "born" from fire and can be properly perceived owing to the action of light – all you have to do is go to the House of the Metropolitan.
"THE SPACE FOR CREATIVITY IS LIMITED NOW…"
The four halls display fancy glass items made in the 1980s-1990s by I. Apollonov, V. Genshke, A. Balabin, S. Holembovska, and bronze artworks by A. Valiev, M. Horlovyi, V. Kosheleva, et al. from the collection of the Ukrainian Directorate of Exhibitions. The glass items look especially effective under artificial illumination which turns all their shades and facets to advantage. These works, executed in various art techniques, such as painting, diamond cut, modeling, and engraving, are very refined at first glance, but, in reality, according to exhibit organizers, they are the most difficult to transport due to the brittleness of material and considerable weight.

Photo replica by Oleksii IVANOV
As to whether or not the expression "ancient techniques" is appropriate in this context, let me say this: glass appeared on the territory of what was later Kyivan Rus' in the 3rd century or so, and even then it was the object of various "artistic manipulations" (for example, in making glass ornamentations). Bronze items assumed importance in the era of classic antiquity, i.e. in the 5th century. Yet it was not until the mid-to-late 20th century that fancy glass emerged as an art trend. According to Sviatoslav YARENYCH, head of the exhibition department of the National Sanctuary "St. Sophia of Kyiv," this trend is not too popular today because "while previously there were several powerful glass works that produced industrial glass and tableware and also allowed artists to work there and create such unique articles, now the space for creativity is limited to small workshops which, of course, have no erstwhile capacity."
ENAMELS OF TETIANA AND SERHII KOLECHKO
Fancy enamel, the backbone of the overall exposition, is a separate story. The authors of these exhibits are Tetiana and Serhii KOLECHKO, winners of the Kateryna Bilokur Prize. Among their diverse works are entirely new ones and the ones that have been exhibited before. As for the fancy enamel technique itself and its importance in today's art space, exhibit organizers are saying: "While earlier enamel was of a more applied nature, and it could be used for making earrings, small images, and Gospel framework, artists have begun to make big pictures in the past three decades – it is a new stage in the development of this art." Asked about why the fancy enamel technique in not popular now, Serhii KOLECHKO explains that this art requires a lot of efforts, time, and expenses. In general, making an enameled item is quite a "procedure." Just fancy this: first a layer of special paint, which is an alloy of glass and metal oxides, is applied to a copper plate, and the plate goes to the furnace. Then it is taken out of the furnace and is coated with another layer of paint – it is done 10-15 times. The paints should also be specific – they are produced in France, Germany, and Russia (in the USSR, there was only one mill that produced paint for orders and medals). They are rather expensive and scarce in Europe. "The main property of this paint is that it never tarnishes – it will remain good forever," Kolechko says. "Leonardo da Vinci used to say: if you want to make something eternal, make it from enamel. For example, the ancient 8th-11th-century enamels, now displayed at the Kyivan Cave Monastery's museum of valuables, have not lost their color at all." Besides, this art requires a well-developed imagination because paints can change their color when baked in the furnace. Different paints need a different burning temperature, 800-870 degrees on the average.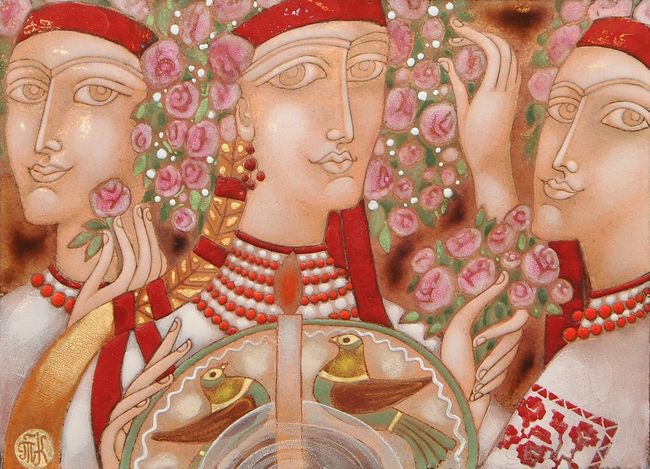 The enamel art is little known in Ukraine, with only about 20 artists practicing it. Serhii and Tetiana, who had practiced traditional painting, took up enamel in the 1980s, encouraged by the Kyiv-based artist Oleksandr Borodai. Now they actively conduct master classes also abroad – they taught at the Enamel Art Center in Germany a few years ago. Artworks of the Kolechko couple were also exhibited in France. In their fatherland, the artists made an iconostasis for the restored temple in Chersonesus in 2002. Incidentally, Serhii says restoration of enamel is very complicated process because every enameled item needs a different temperature of baking, and it is next to impossible to find out what it was many centuries ago. In any case, this ancient technique is very effective and undoubtedly worth being revived.
The exhibit "Fire and Light" will remain open until the end of May.