Lviv displays "Marks of Time" in memory of Zenovii Flinta
25 April, 2018 - 16:29
The Veles Art Salon is staging an exposition of ceramic and painting artworks by the Master. Zenovii Flinta (1935-88) was born in the village of Toky, Pidvolochysk raion, Ternopil oblast, and gained artistic education at Lviv's Ivan Trush Art School and Institute of Applied and Decorative Arts (Art Pottery Department). As a student, he widely experimented with the form, volume, and area, trying to apply graphic and painting techniques to pottery and sculptural ones to paintings and drawings. Among the mentors of the future meritorious painter of Ukraine were such uncommon personalities as Roman Selsky and Karlo Zvirynsky, who taught Flinta basic painting.
Then Flinta taught at his alma mater's art pottery department for over 10 years and, at the same time, took an active part in exhibits both in Ukraine and abroad.
"The array of Zenovii Flinta's formal studies is not only a 'diary' of the artist's experiments, but also a 'diary' of the 1960s nonconformist art and a search for ways to resist the total literariness of social realism via the esthetics of modernism," the exhibit annotation says. "The artist's aspiration to create a 'pure language' of the painting and plastic form is consonant with searches in that time's European art, which confirms the assumption that a free development of ideas is programmed by time, not by political doctrines."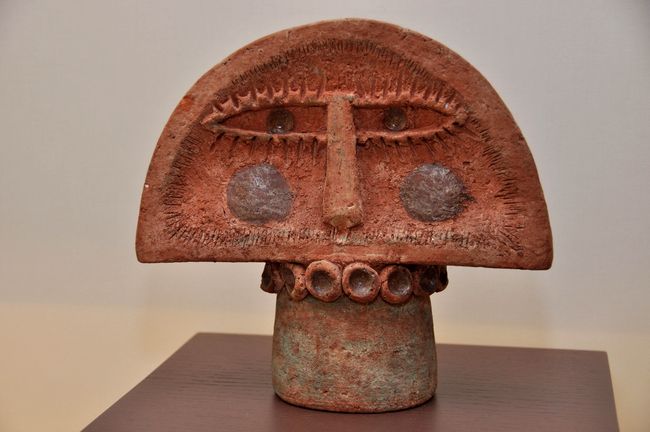 Organizers of the "Marks of Time" retro show at Veles point out that from the mid-1970s onwards Flinta was one of the leaders of artistic process in Lviv. He was also considered an indefatigable experimenter and a consistent nonconformist who, together with his friends Oleh Minko, Liubomyr Medvid, and Ivan Marchuk, had a considerable impact on the formation of the world-view of the next generations of artists.
The current exposition was organized by the Master's daughter Iryna Danyliv-Flinta (a master of art textile, an Honored Painter of Ukraine) who presented her father's works of the 1960s-1980s for display. "We have exhibited a group of decorative masks – it is a hidden puppet show. Later, when it was allowed, we called them 'Little Devil,' 'Jew,' 'She-Goat.' You know the way it was – nobody could call things by their proper name," Danyliv-Flinta says. She adds that all the exhibited objects are from the family collection – some of them were exhibited about 50 years ago, and some have never been displayed before.
All those who want to reflect on Zenovii Flinta's works can do so at the Veles Art Salon, 4a, Fredra Street, until May 9.