Expand the "intellectual space" with Den's books!
7 November, 2017 - 12:07
Thanks to active citizens – in particular the Lviv public figure Teodor Diakiv and the Zakarpattia businesswoman Iryna Matsepura – the bestselling book The Crown, or Heritage of the Rus' Kingdom has already enriched the collections of public libraries in Lviv, Ivano-Frankivsk, and past week, also Ternopil and Zakarpattia regions. We invite all those who wish to bring high-quality reading material to their regions to join the partnership, since the reviews of those who have already read the book are those of convinced enthusiasts.
"DEN HAS EXPANDED THE 'HISTORICAL CORRIDORS' AS MUCH AS POSSIBLE"
Iryna MATSEPURA, the director of VHSM Ltd., the town of Velykyi Bychkiv, Zakarpattia oblast:
"The newspaper Den manages to form an 'aristocratic' vision of history. We see it even in the present that any event can be analyzed and presented both positively and negatively just by slightly changing the emphasis, and it is much more so with the events of a thousand years ago. Therefore, I am very impressed with the position taken by Den as it publishes articles written from the correct state-building perspective: each article adds another block to the foundation of the state edifice. Ancient history in general is rather monotonous: battles, defending the territory and its expansion. And here Den makes a very magnificent accent: it always finds stories about culture, education, directions of development. And with this, it connects history into an inseparable whole. It is so since aristocratic way of doing things, in particular as it pertains to history, is about constantly repeating positive actions. Lost military battles can then be won on fields of reason, and history will go on. Meanwhile, lost intellectual battles send states to distant bypasses of civilization.
"I liked most the article by Oksana Pachlowska entitled 'Mazepa as the Architect of European Ukraine.' While reading it, I recalled the call from the 'Armor-Piercing Political Writing' series – read it with a pencil! It speaks about the time of Ivan Mazepa, when 'the confrontation between Ukraine and Russia became systematic and conceptual in nature'; about 'Ukraine being the last European bastion of a political tradition deeply opposed to Russian absolutism'; about 'Mazepa as a figure of the prologue to the modern era of Ukrainian history'; and about the fact that at the time of Mazepa 'the cultural and ethical preconditions for a political concept of the state first appeared.' This is yet another solid foundation block that was being removed from history for a long time.
"It is always interesting to see how a person who makes historical decisions thinks. Why the history went that way, and not the other. What formed the social preconditions for this or that decision. It seems that historical figures do not ape each other, for example, Mazepa did not ape Yaroslav the Wise, but the time comes when such preconditions are created, such a cultural layer or the critical mass of knowledge and events comes to exist, that such a person arises who makes decisions without looking back at the history textbooks.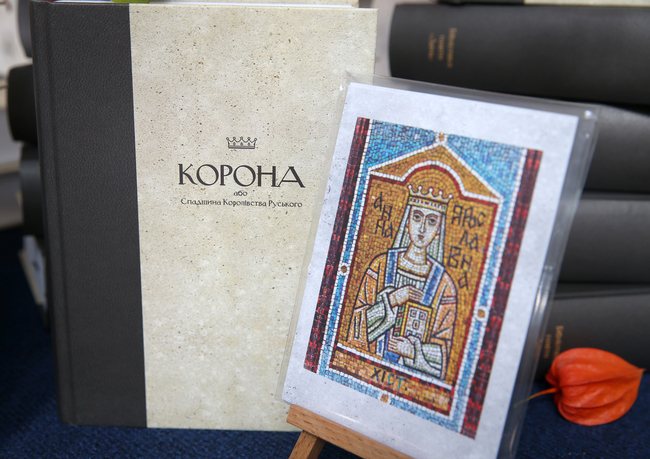 Photo by Artem SLIPACHUK, The Day
"I consider the historical heritage to be the foundation upon which every citizen of the state should rely. Maybe even not a foundation, but a citadel, a rear area. Through its 20-year-long work, Den has built a secure citadel where there are problems, there are victories and defeats, but it is a worthy rear area that does not cause one to have a complex of inferiority about our historical development. Den has expanded the 'historical corridors' as much as possible, but the choice of conclusions has been left to the reader. Some people will like most Viacheslav Lypynsky's maxim 'There is no culture without tradition, and no nation without culture,' and they will lead a life of a responsible property owner. Others will follow the example of Den's new contributor Andrii Baumeister and fight for a new paradigm of philosophy in the modern world (described in his article 'On the Temptations of False Europe,' published by Den recently), which will determine the further development direction of the European community."
"WE SHOULD PERCEIVE OUR STATEHOOD SUCCESSION AS FAR LONGER THAN 20 YEARS"
Serhii PODRUTSKYI, the chief agronomist of the Akant Farm, the city of Kakhovka:
"I saw an interview with Larysa Ivshyna, the editor-in-chief of Den, where she discussed a new book called The Crown... Her story encouraged me to look for and order a copy. I think that we get little information about the time of Kyivan Rus'. I, meanwhile, wanted to read fresh thoughts about this period. Not what we were told in Soviet schools, and maybe not what they are telling in schools now.
"Since I bought the book recently, I have read only a little bit so far. But already with the first texts, I am growing more and more interested, and I am glad that I got to put my hands on such a book. This is a somewhat unusual interpretation of the legacy of Kyivan Rus', the Rus' Kingdom, and the activities of King Danylo...
"The materials about the events of past centuries offer some relevant lessons for today's Ukraine. If we want to have a strong state, we should perceive our statehood succession as far longer than 20 years. And of course, we should avoid repeating the numerous mistakes of past rulers.
"After getting acquainted with The Crown..., I also explored your newspaper online in more detail. It was interesting to learn about the large Den's Library series, and I also liked the style of presentation of the materials. You write about facts and offer interesting comments, but do not present comments as facts."