Copies of wall paintings from unique wooden churches of Galicia have gone on display in Kyiv
16 April, 2018 - 15:40
The exhibition is displayed in the rooms of the 18th-19th-century architectural monument "Khlibnia," which is part of the building complex of St. Sophia Cathedral. The exposition is called "Passion according to Yurii." Visitors can see copies of wall paintings from wooden churches of Galicia and Transcarpathia, coming from the collection of the family of the famous artist Yurii Khymych and that of the Sanctuary itself.
Let us recall that Khymych would have turned 90 on April 12... However, the earthly path of Khymych, a prominent 20th-century Ukrainian master of architectural landscape, architect, graphic artist, and teacher, ended in hot July, 15 years ago, as he left us for Eternity...
The creative legacy of the artist includes a large number of graphic sheets devoted to historical cities and architectural monuments of Ukraine, Poland, Hungary, Latvia, Lithuania, Estonia, and Finland.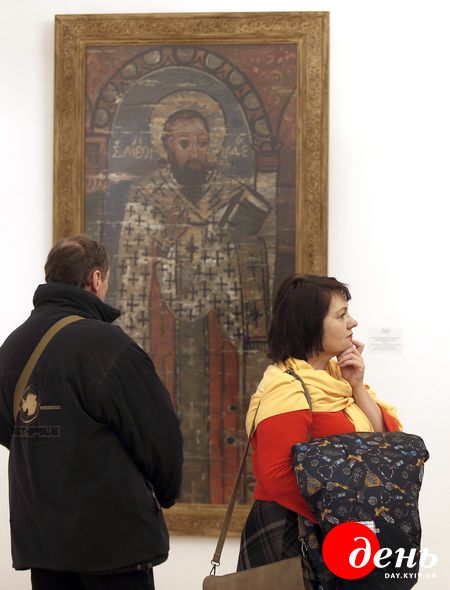 The organizers of the exhibition emphasize that the works of the artist are special in their deep understanding of historical styles and volume-spatial composition, monumentality and decorativity. Khymych shaped architectural forms of the castle, palace, church or ordinary residence firmly and confidently, using a solid line and planes of local color. This ability to create a laconic and easily recognizable image of a particular monument or urban environment has gained his works the sympathy of art lovers both in Ukraine and abroad. Now hundreds of the artist's works are kept in museums and private collections of Europe and America.
To mark the 90th birth anniversary of Khymych, the National Sanctuary "Sophia of Kyiv" and the KalytaArtClub Gallery have prepared a large exhibition of works by the artist from the Sanctuary's collection and that of the artist's family.
Out of the vast legacy of the artist, this display has selected monuments of the wooden church architecture of Galicia and Transcarpathia, 16 of which were put on the UNESCO World Heritage List in 2013! In addition, for the first time after a long pause, the general public gets to see copies of wall paintings from wooden shrines of Potelych and Drohobych, done by Khymych in 1958-60 during his work at the department of history of Ukrainian art at the Academy of Civil Engineering and Architecture as it illustrated the six-volume History of Ukrainian Art (1966-70), antikvar.ua recalled. Also, these copies were used to illustrate the monographs of famous art historians Liudmyla Miliaieva and Pavlo Zholtovsky, devoted to the monumental painting of Ukraine.
The exhibition can be seen until May 2.