The authenticity of Bukovyna winter festivities attracts thousands of tourists
17 January, 2018 - 17:07
On January 13-14 the Pereberia carnival was traditionally held in Vashkivtsi, Chernivtsi oblast. It's a festival held on the Old New Year's Day and Malanka. The festivities start on January 13 at night and last for the entire night and the following day.
The main aim of the festival is focused on the rivalry between the town's neighborhoods – to show best creative approach and on making author's masks and images of various characters. However, over the past years the locals were joined by the people living in the neighboring towns and villages. Without doubt, it was beneficial for the colorfulness of the festival. For it is hard to imagine all the ideas produced this year. The Brusnytsia team made three Cossacks based on the characters from a famous cartoon. It seems to be easy to make the costumes, but to turn a car into two buffalos, like the characters had in a cartoon, was a technically complicated task. Besides, the buffalos were not only moving, but lowing as well. Other teams didn't lag behind either. Some disguised a car as two pyramids, others – as a Hutsul's head. This year's Pereberia involved numerous clowns. The locals said they had gotten inspiration from the movie It.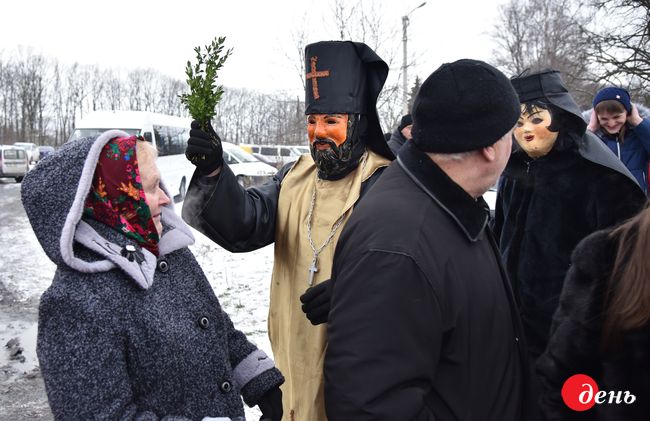 Besides, the participants mock the sensational events in the world or in Ukraine. The Malanka hit was a priest with priest's wife, who were rinsing every guest with holy water. The character said he had come up with this image two days after the events connected with the Moscow patriarchate in Zaporizhia.
 The festival ended with a traditional bathing in the local water reservoir. Old tales say formerly people were trying to protect themselves from evil forces in such a way.