Protect dolphins!
Scientific director of the Sevastopol Dolphinarium in Artillery Bay Oleksandr Zhbanov about the joys and challenges of these animals in the wild and in the aquarium
04 February, 17:46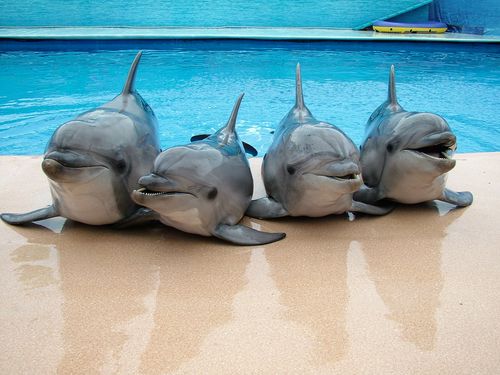 Dolphinarium in Artillery Bay is the calling card of Sevastopol. Its inhabitants are friendly dolphins, carefree seals, Australian black swans, and loud parrots. Scientific director of the Sevastopol Dolphinarium in Artillery Bay Oleksandr ZHBANOV took The Day's journalists on a tour around the place.
When we started off on a tour Zhbanov proudly said: "We can say with great pleasure that in the past year a dolphin and a seal were born in the dolphinarium. We also have small Australian black swans. This is proof of that the conditions for life of animals here are at a good level. Little dolphin was named Seva in honor of his native city. Seva is the fifth dolphin born in the dolphinarium. He is five months now. So far he is eating his mother's milk and tries some fish too."
Director of the dolphinarium also said: "Our dolphinarium is a part of the state scientific practical program called 'Dolphin.' It was adopted a decade ago and is perpetual. Together with Karadah Nature Reserve, the Academy of Sciences of Ukraine, 'Brehm Lab' company, and Yevpatoria dolphinarium we have been studying the dolphins in order to preserve their gene pool. We have achieved significant results in this sphere: both in Karadah and in Yevpatoria there are rescue teams for helping needy animals. We also published posters with phone numbers of appropriate services and distributed them to the organizations that are located closer to the shore. These organizations and also ordinary residents of Sevastopol let us know when dolphins need help. Many animals get entangled in seaweed, net fragments, or fall in shallow water. Our experts free animals and apply the necessary medicine if needed. After dolphins receive injections of medicine that stimulate the heart and other organs, they are towed off to deep water. Unfortunately, we have no right to take distressed dolphins from the wild. There is one unsolved issue in saving the dolphins: we sometimes find dolphins in a really poor shape and our specialists see that they will not live for very long. In such cases we have to kill the dolphin as it is done in European countries by shooting at its head from a gun. However, we cannot do this, nobody authorized us for this and, unfortunately, after the rescue operations with such dolphins we tow them off to deep water realizing that they will soon die." Such cases are very rare, more often the rescue service manages to bring dolphins back to normal life. Director of the Dolphinarium in Sevastopol said: "Each year we rescue about a dozen of dolphins."
Another dangerous factor are plaice nets, especially for azovka dolphins – the smallest species of dolphins. Zhbanov explained us: "Dolphins get stuck in the net and die, and in spring and summer time, when dolphins give birth to their babies, if a mother gets stuck in such net, a small dolphin dies without her. There is a solution to this problem: the nets should be soaked with special solutions that would make them visible for dolphins. However, this requires money, state funding and we haven't received anything so far. That is why the number of deaths of dolphins in plaice nets increases."
Specialists in the dolphinarium have developed a mechanism of scaring the dolphins away from the nets. It can be done with the help of hydroacoustic radiators with independent power supply, these are a kind of beacons: a dolphin hears the signal and does not go to this place. But again the main issue here is the lack of funding.
Zhbanov also stripped away myths of some people, who are in favor of the abolition of the dolphinariums. "If dolphins are kept in good conditions, they will live longer than in the wild. In the wild they live for about 30 to 40 years and in good conditions of a dolphinarium they can live up to 50 years and even longer." In the modern world the life of cetaceans is under threat: oil spills, the noise of ships, a small amount of fish, etc. That is why it is more comfortable for the cetaceans to live in Sevastopol Dolphinarium. "We feed the dolphins with seven varieties of fish, including salmon. We also give them squid and vitamins," told Zhbanov. In summer time an average dolphin eats about ten kilograms of fish per day, in winter time their energy needs increase and they eat 15 kilograms per day. "The Dolphinarium opens on May 1 and closes on November 1. During these 100 days we have to earn money for the food for animals and salaries for their trainers because both dolphins and trainers need to be fed all year long," smiled Zhbanov.
Currently there are four dolphins and 18 seals living in the dolphinarium. The staff is made up of 30 employees, including those, who are on duty around the clock to be able to help dolphins in case of emergency situation.
Dolphinarium staff ask the readers of our newspaper: if you see a dolphin who needs help, please call the rescue team for dolphins: Yevpatoria (06569) 27099 46235, Sevastopol (0692) 559955, Yalta (0654) 350028, Feodosia (06562) 26204, Simferopol (0652) 514272.