Hundreds of people welcomed in Boryspil on March 20 the Ukrainian national team that had triumphantly performed at the Paralympic Winter Games in South Korea
21 March, 2018 - 18:24
Flowers, Ukrainian flags, posters and warm embrace – all these created the emotional and joyful welcome offered Ukrainian athletes as they came home. To honor the team on its return, a meeting with the medalists was held in the hall of the F terminal at the Boryspil Airport, during which they were greeted not only by their relatives, but also by high officials, including Prime Minister of Ukraine Volodymyr Hroisman, Minister of Youth and Sports of Ukraine Ihor Zhdanov, and chairman of the Verkhovna Rada Committee on Family, Youth Policy, Sports, and Tourism Artur Palatny. However, it was the athletes, patiently awaited by several hundred people, who were in the focus of the event.
 This year, Ukraine performed very well in Pyeongchang, winning seven gold medals (this is the record number of such awards for Ukraine over the past 12 years), seven silver, and eight bronze ones, and coming to rank sixth among the medal-winning countries in the overall ranking. "It is a very significant victory for us precisely now. I guess it is because the war continues in this country, and people are already tired of it, so we feel everything especially keenly. And victories of our Paralympians offer an extra reason to be proud of this country," said Svitlana Tryfonova, Honored Master of Sports of Ukraine, seven-time medalist of the Paralympics.
 The hall of the terminal was crowded, mostly with professional athletes, veterans of Olympics and Paralympics, relatives of this year's medalists, journalists, and regular supportive citizens (the latter were numerous as well). The official program did not take a long time. The organizers of the event kept people entertained until the arrival of the athletes by screening excerpts of video records of the Ukrainian team's preparation for the Games and its performance in Pyeongchang. The plane arrived on time. A solemn and exciting moment of the welcome, a performance of the anthem, followed by a short official program. Hroisman spoke, announcing positive news: the amount of award payments to Paralympic athletes had been raised to match that of Olympic medalists; Zhdanov offered specific figures: the national budget had 91 million hryvnias allocated for the medalists, of which 125,000 hryvnias were to be received by every gold medalist, 85,000 by every silver one, and 55,000 by every bronze one.
 And then, the heroes were greeted by their closest family and engaged in informal communication: at last, we had an opportunity to find out about their impressions firsthand. This year's Paralympic team, led by Valerii Sushkevych, included very young medalists along with well-known Paralympic athletes who had won on numerous occasions before. The 18-year-old Taras Rad, who won gold and became the flag-bearer at the closing ceremony, told us: "I have returned with great impressions, and I am especially pleased with the fact that although I entered the Paralympics for the first time, I won such a high award. Thus, I now want to do better every time." Oksana Shyshkova, who is one of the most experienced team members, brought home six awards, including two golds, three silvers, and a bronze. She said she dedicated her victories to soldiers of the anti-terrorist operation. Vitalii Lukianenko, who is no less experienced and won two golds at these Games, remarked that during the competition, he was strongly impressed by events such as performances of the Ukrainian anthem and raisings of our flag. He said he was pleased with the result while admitting he could have done better. Meanwhile, Liudmyla Liashenko, who won a gold and three bronze medals, tirelessly motivated others with her example: "I would like to wish that everyone stay strong and do the work they like, so that one could say in one's old age: I have lived such a happy life, full of events and diverse competitions! Most importantly, one should never give up."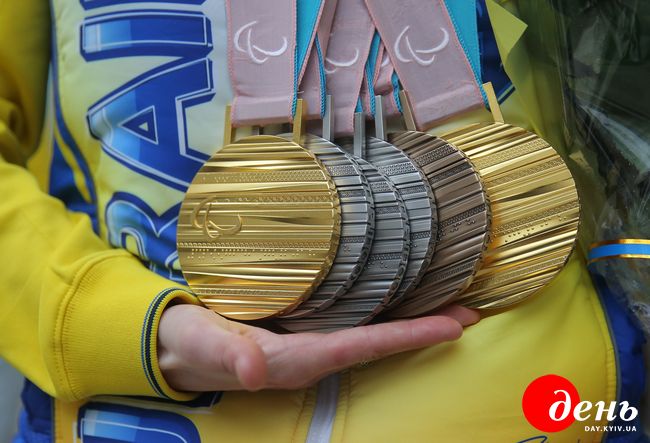 Also, the athletes said they had felt strong support coming from the homeland. In particular, it manifested this year in the setting up, for the first time ever, of a Paralympic fan zone in the "Pencil" TV building. The organizers noted that they would repeat it in the future as well.