Art critic Olesia Avramenko told The Day about the outstanding artist; she authored two books about him
28 February, 2018 - 17:42
Let us recall that the exhibition "50 Shades of Viktor Zaretsky" is displayed at the Museum of the Kyiv History till March 1. According to art critic Olesia Avramenko, she wrote her monographic study of the work of Zaretsky (1925-90) following a thorough analysis of the master's work and recalling her personal encounters with the artist from 1987-90, and it also discusses archival finds and interviews with colleagues and friends of the artist... The fate of this extraordinary master was dramatic, although it was impossible to predict in the beginning. Throughout his creative life, Zaretsky worked boldly searching for new ways and changing his approaches in the realm of painting. He studied at Kyiv Art Institute in 1947-53, initially as a Repin scholarship holder, and later a Stalin one. He painted his graduate work under the guidance of Serhii Hryhoriev and received excellent marks. After graduating from the institute, he experienced a creative crisis. Why did it happen? Even Zaretsky himself could not tell for sure...
Thanks to his talent, perseverance, and insane efficiency, Zaretsky mastered perfectly the craft of realistic painting, but found it hard to create paintings reflecting so-called "social" orders of the time. He could not and did not want to write portraits of "helmsmen" and "guides." Therefore, he began to look for a topic that would be close to his mind and in tune with the time. This was how he chose first the "miner" topic, and then the "peasant" one.
In the 1960s, Zaretsky and his wife, artist and human rights activist Alla Horska, found themselves riding the crest of a wave of artistic life, communication, and recognition. They were members of the Suchasnyk Club of Creative Youth. "The time was very beautiful, and it ended very tragically. It was like a veritable detective story," the artist said afterwards... Zaretsky did monumental art as well. As he himself put it: "I went to buy a box of matches, but ended up stuck for 18 years." At first, he worked in the field with his wife, since Horska was a monumental artist. It was a wonderful artistic union. Both were strong, lively, and talented, both had countless creative ideas for the future. They collaborated with other artists to create mosaics from smalt and ceramics, such as Prometheus, Earth, Fire, and others in High School No. 47 of Donetsk, or Tree of Life and Dreambird in Ukraina Restaurant in Mariupol.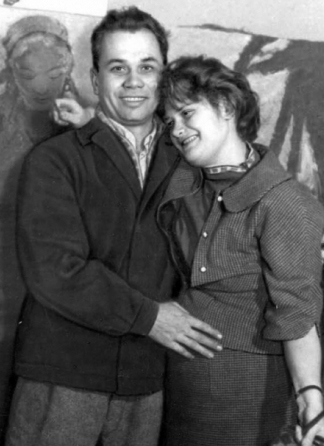 THE LEGENDARY PAIR OF SIXTIER ARTISTS – VIKTOR ZARETSKY AND ALLA HORSKA / Photo from the Zaretskys' archive
The sudden and mysterious deaths of his wife and father abruptly changed the life of the artist, dragged him into depression, and made him increasingly reclusive. However, he continued to work tirelessly from morning till evening, immersed himself in painting and did not allow himself to stop, since painting had become his life... Zaretsky's works, although accepted for exhibitions, were displayed with caution in the times that came after the "thaw," in the 1970s and 1980s.
"HIS BRIGHT EYES, BROAD NOSE, AND SHORT 'KHE-KHE' LAUGHTER BROUGHT TO MY MIND THE PAGAN GOD PAN"
"When visiting art exhibitions in the mid-1980s, I repeatedly came across dazzlingly beautiful and reliant on unexpected artistic language landscapes, genre compositions, portraits by somebody called Viktor Zaretsky. They impressed me, awoke the imagination, and made me scared," Avramenko recalled. "His female portraits were especially attractive. The artist depicted his models as princesses from childhood dreams or as Egyptian queens in the paintings of the New Kingdom era, or like women in the portraits by Diego Velazquez, as well as in the mystical paintings of Pre-Raphaelites or pictures by Gustav Klimt. Their clothes and accessories were brightly decorative. They were pictured against the background of mosaic-like scattered gems or whimsical patterns of flowers and ornamental motifs. All this was absolutely atypical for the then-dominant art of socialist realism! The creator of pictures which had so impressed my imagination was Zaretsky. When I asked about it, I hit a wall of misunderstanding: 'You do not know Zaretsky?! That is good. Why do you need to know him? He was Alla Horska's husband. What? Why are you unconcerned? She was killed in 1970. It was a terrible and still unclear story. They say that he killed her himself. He also headed the Club of Creative Youth, where nationalists gathered in the 1960s. Now he is married to Maia, the daughter of his teacher, Serhii Hryhoriev. He has done well out of it... He lives in Koncha-Ozerna, almost like a hermit. Zaretsky is a strange man, and he paints terrible pictures. He is not worth your attention. Leave him alone...' In this way, all the life of the man who was not yet known to me then was outlined in a few harsh sentences. But the warnings of my wise friends went unheeded...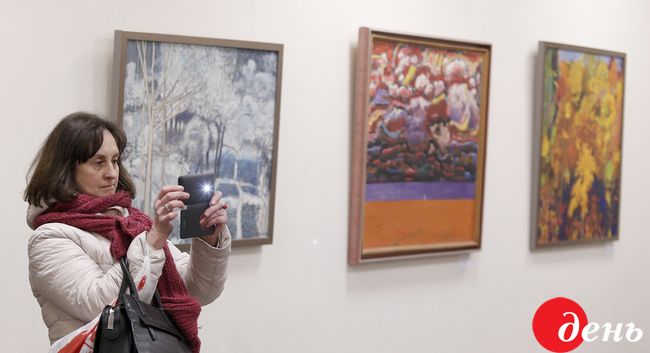 "I was astonished after my first face-to-face meeting with the artist. The man who depicted in his paintings the precious beauty of herbs, flowers, heavens, and portrayed the unreal beauties with the names of real women – that man looked simple and ungroomed, wearing a shabby-looking cotton-wool jacket and an old worn knitted hat. His bright eyes, broad nose, and short 'khe-khe' laughter brought to my mind the pagan god Pan.
"Zaretsky spoke emotionally, excitedly, with incomplete sentences. The language was similar to bits of some text violently pulled out of context: with ellipses in front, at the end and, repeatedly, in the middle of a sentence. Only after hours of conversations I learned to bring together and link into logical phrases these torn-out pieces of meanings that literally bled, to add them to the general canvas of the artist's life, which at that time was, invisibly for us, coming to its end.
"These omissions were concentrated clots of emotional torment and unanswered questions. Zaretsky's soul was hurting all the time since the end of 1970 due to fear, resentment, and unbelievable injury, which he could not completely overcome till the very end of his days. That was why he burned out prematurely..."
"IT WAS AS IF HE HAD MET A TWIN BROTHER, WHO HE WAS SEPARATED FROM IN TIME AND SPACE"
"Ordinary spectators often call Zaretsky the 'Ukrainian Gustav Klimt' (an Austrian artist of the Secession age). You know, when I began to study deeper the work of Zaretsky, I saw that the artistic language of the Secession was really extremely congenial to his nature," Avramenko emphasized. "The refinement of composition choices, eroticism, and philosophical approach, which were the basis of the concept of the Secession style in general and the work of Klimt in particular captivated Zaretsky for some time. The close affinity of his own views and worldview with the work of Klimt was very impressive. The artist had the feeling that he had found a long lost thing, it was as if he had met a twin brother, who he was separated from in time and space. Everything seemed to be not accidental to him. Zaretsky saw Klimt not as a guru, but as a fellow fighter and colleague who came to similar conclusions and achievements in his work, only with other accents emphasized and other nuances revealed, as determined by his age and social system. Zaretsky saw in Klimt his own alter ego, found in him something that he had no chance to experience, namely freedom of creativity without ideological limitations...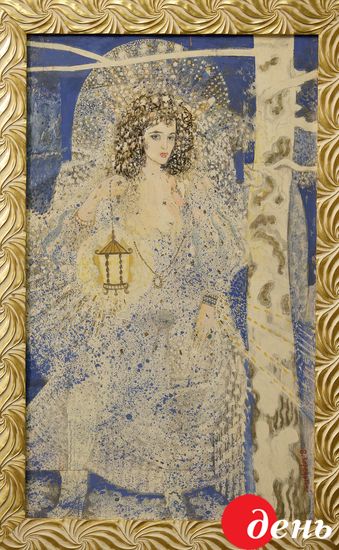 "The artist often turned to female images. In portraits by Zaretsky, the woman appears to be what nature and world poetry created her as: beautiful and mysterious, feminine and attractive, passionate and desirable, a diamond in need of a setting... The artist generously created that charming 'setting' in which each of them lives in unrealized dreams..."
"THE ECOLOGY OF THE HUMAN SPIRIT"
"To cover the work of Zaretsky in a brief description is very difficult, since his achievements were too rich and diverse, and his legacy is perceived as one impressive whole. It can be depicted as several lines developed in parallel, which are one way or another interconnected and firmly intertwined," Avramenko continued. "The master's numerous shelves hold a lot of works still unknown to the public. The fact that we have not seen them, as well as many works by other masters, has distorted the development of culture and our ideas about art. The ecology of the human spirit can be seen as one of the leading themes of his works...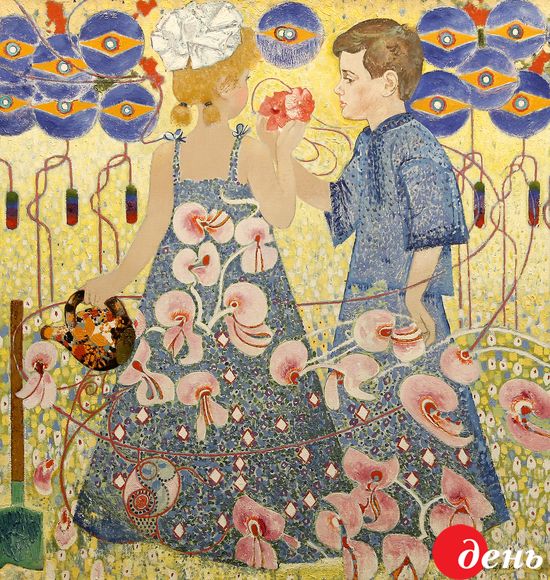 "Zaretsky was one of the first Ukrainian modernists and postmodernists, the creator of the Ukrainian neo-Secession based on the traditions of Ukrainian folk and decorative and applied arts. He taught many people who are famous painters nowadays. The master was posthumously awarded the Shevchenko Prize. Zaretsky's works are now centerpieces of museums and private collections. For instance, 20 paintings by the artist were sold at the Christie's auction in 1990. They included the magnificent Portrait of Raisa Nedashkivska in a Golden Cape and the Art triptych. Nowadays, Zaretsky's paintings are treasures for which famous world collectors compete...
"The artist's creative nature was wide open to all the diversity of culture, both past and present, and free in its usage of artistic styles, systems, techniques, and means of expression, as it reflected and re-imagined all of this in original and highly individual ways.
"Spiritual strength and faithfulness to the cause are important attributes of true talent and exalted fate. And when we needed to look back at the path we had gone down, to 'gather stones,' it turned out that tragic losses and suffering had not broken his personality, but had actually benefited him."