A romantic mode of transport has appeared in the city on the Buh River
11 June, 2018 - 16:12
Recently, pub owner Vitalii Humeniuk, who leases a barge on the riverfront, started offering this attraction to his patrons. A romantic boat was designed by his grandpa to confess his love to his future wife. Many years later, Humeniuk decided to give the gondola a second life, restored it, modernized, and launched into water.
"My grandpa and grandma had an incredible love story that deserves a novel-length treatment. The grandpa built this gondola for her, but christened it Juliet, probably in honor of the character of the famous Shakespearean play," the pub owner told us. "I worked abroad for a long time. When asked where I came from, I replied: 'From Vinnytsia.' And everybody thought that I was from Venice. After all, is Vinnytsia really any worse than Venice? When I opened my restaurant, I remembered the gondola and my Vinnytsia Venice. After a long reconstruction and testing, I launched the first tourist season and became the first gondolier in the city. Now I am carrying couples of lovers who admire the sunset or sunrise. People are pleased, while my establishment gets tourists entertained."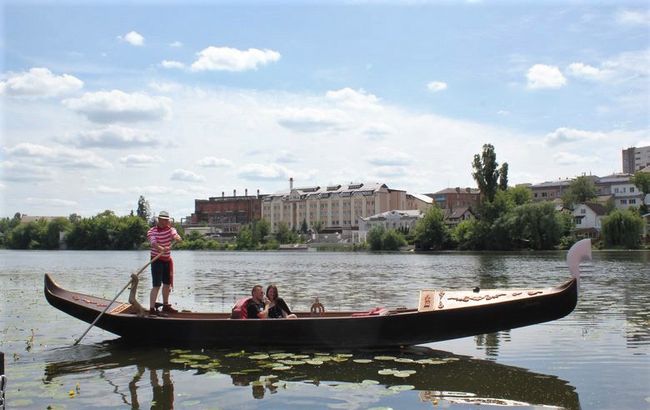 Juliet differs from the original gondolas in that it is a bit narrower and longer. There is an iron crest on the boat's bow which acts as a counterbalance to the gondolier. The boat has a comfortable seat and a table. Since nobody teaches the gondola sculling art in Ukraine, Humeniuk had to master this skill on his own: he watched video tutorials, read books and perused dozens of films. He admits that gondola is harder to steer than an ordinary boat. Moreover, in addition to the skill, one needs to have permission for boat rowing on the Southern Buh River.
A gondola ride along the Southern Buh River costs 250 hryvnias. In this way, Humeniuk tries to raise funds for his dream: to open a school of Ukrainian gondoliers, because the number of clients willing to ride in the gondola increases all the time, so he is becoming unable to serve them all.