Uzhhorod hosts exhibit featuring heritage of one of Transcarpathian art school's founding fathers
2 November, 2016 - 16:44
An exhibit commemorating the 125th anniversary of Yosyp Bokshai, a noted painter, co-founder of the Transcarpathian school of art, was organized by his today's colleagues at the Bokshai Museum in Uzhhorod. Experts say this display is probably the best ever held.
Museum director Francisca Erfana, Bokshai's granddaughter, says the display includes 110 paintings made at different periods, in various styles, among them canvases exposed for the first time, also archival documents and photos.
Yosyp Bokshai lived a long and fruitful life, leaving behind more than 1,000 canvases, trying almost every genre, creating a number of monumental masterpieces. Critics agree, however, that his most significant works dealt with religion, especially his interior decoration of the Greek Catholic Cathedral of the Elevation of the Cross in Uzhhorod.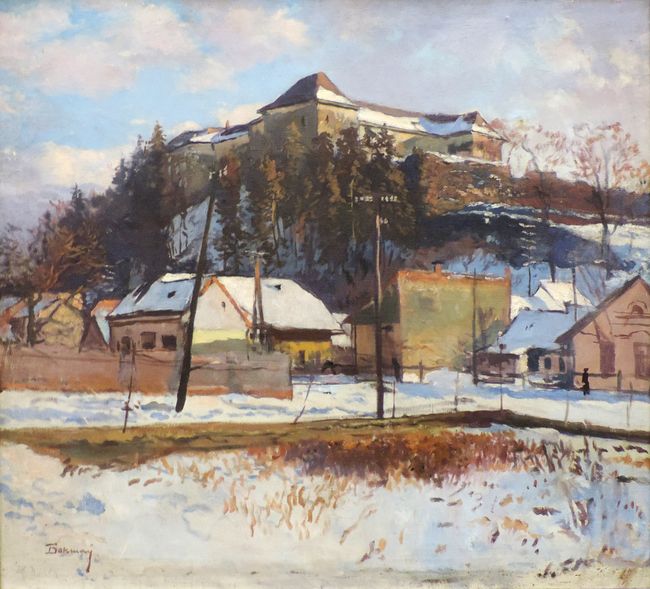 UZHHOROD CASTLE / Photo replica by the author
Ms. Erfana believes her grandfather took up religious painting after the First World War, in which he had fought. After graduating from the Budapest Institute of Visual Arts in 1914, he was drafted into the Austro-Hungarian Army. On March 24, 1915, he was taken prisoner of war by Russian troops near the town of Turka (currently in Lviv oblast) and interned in Turkestan, Kazakhstan, Uzbekistan, and finally in Verkhniodniprovsk in what was then Katerynoslav gubernia. In the spring of 1918, he and other POWs were transported to Prague. An artist who had lived through the horrors of a world war couldn't but respond to such problems of mankind in his creative work.
Regrettably, most of his monumental religious paintings have been lost or neglected in Transcarpathia, unlike many such creations in Hungary and Slovakia. Under the communist regime, some of the churches with Bokshai's wall paintings were destroyed, says art critic Olena Prykhodko, and the religious canvases stored at the Transcarpathian Art Museum were impounded in the early 1950s and destroyed as "damaging to socialism." Fortunately, there were people who risked imprisonment, hiding some of the priceless canvases. After Ukraine proclaimed independence, Bokshai's pictures were retrieved from the museum storeroom and put on public display.
Bokshai's monumental paintings as part of the national cultural heritage are hard to refer to a certain period, considering that the artist started working on them before the war and completed them during Soviet times.
Bokshai's jubilee exhibit, entitled "Man of Faith. Artist of Truth," is open at the Transcarpathian Art Museum until December 7.