September 7 through 17 Kyiv hosts the 10th jubileum edition of GogolFest 2017 Ark, a multi-disciplinary festival of contemporary art
12 September, 2017 - 10:57
Vlad TROITSKYI, founder and unchallenged director of the festival, tells The Day about the most interesting of the events on the festival agenda, the situation around the new building of the Theater on Podil, and shares his vision of the future of Ukraine's culture.
How is this year's GogolFest different from its predecessors?
"It has a new format and new locations. First of all, this year we have a lot of collaboration projects. In this, we are assisted by a theater network known as ETC (European Theatre Convention). For two years already they have been making residences at GogolFest for their young directors, who produce plays with our actors. We are going to have joint projects with American, French, Swiss, and Dutch participants.
"Its second highlight is ArkSquat, a temporary artists' community. We have opened it next to the Dovzhenko Center in a building which is now occupied by painters, musicians, and actors. They are living and working there. It is worth seeing, because right after the festival the building will be pulled down.
"On September 9-10 family festivals will be held at the National ExpoCenter, where we will give two large-scale performances. On September 9, together with professional architects, we start assembling The Ark, a cardboard construction the height of a smallish apartment block. The Ark will be painted, and then a 10-meter-tall cardboard man will come and drag it away to the accompaniment of DakhaBrakha's new show Dreams OFF. On the same day we are going to show an opera by American composer Meredith Monk. Pavilions One and Three will house the visual program, while Pavilion Two will become the venue for the children's program, with a costume and puppet atelier. Old Fashioned Radio sponsors the performances of alternative rock bands on The Fountain Stage (on September 9) and jazz musicians (September 10). It is noteworthy that in the latter case we will have two special guests, a French accordion duo Domi Emorine and Marcel Loeffler.
"On the night of September 9, again at Pavilion One, we will show the Israeli opera Under the Dome, without exaggeration an exclusive project: the soloist will fly in from New York, and the conductor from Israel. On September 10, the public will see the new show by Freak Cabaret Dakh Daughters and the premiere of the Swiss-Ukrainian opera and ballet The Ark. The music was written by Nova Opera, with whom I have staged Job and Babel. Columbian Oscar Chacon, soloist at the Maurice Bejart Ballet and the Royal Ballet (UK), a true ballet star, was responsible for the choreography. Then the project is traveling to Switzerland and Hungary, it has a great touring history. The first weekend will be concluded by the show titled Utopia: the ark that we will have built will fly into the sky. I would like to separately mention the circus cabaret Terabak De Kyiv, which unites the girls from Dakh Daughters and circus artists from the Parisian theater Le Monfort. The show premiered this summer at Champs Elysees in Paris before an audience of 2,000, and it is sold out for 40 performances now."
How do you manage to organize such a complex enterprise every year?
"I have no idea myself. The state does help, but it is only 25 percent. I absolutely agree that this is a complex product, which is very hard to explain to the listener, advertising alone requires incredible investments. Selling pop stars like Prodigy is one thing, while opera and ballet are something quite different. Suffice it to say that over the recent decade I never knew where the next edition of the festival would take place. So it is a back-breaking job, totally crazy if you do it regularly."
Klitschko did not allow you to hold the scheduled European theater program at the stage of the Theater on Podil. Any commentary?
"It is very clear in this case. Conventionally speaking, there are two groups of people: principled opponents, on the one hand, and obviously, persons with vested interests who instigate them. Principles deserve respect, but you will agree that it looks strange if they are only focused on one particular object. Meanwhile, next to the theatre there is a piece of waste ground hidden behind a green fence, but for some reason I see no one protesting. Nor are there protesters chained to the crumbling buildings on Andriivskyi Uzviz. No riots against new houses that spring like mushrooms next to the Funicular and block the view on the hills: I have never seen a single activist raving about his hurt esthetic feelings. Or take that skyscraper in Mariinsky Park! However, they will gladly campaign against the only theater with state-of-the-art equipment, built for the first time in 26 years. When asked, 'Why actually this building?' they have only one major argument: 'Well, you have to start somewhere.'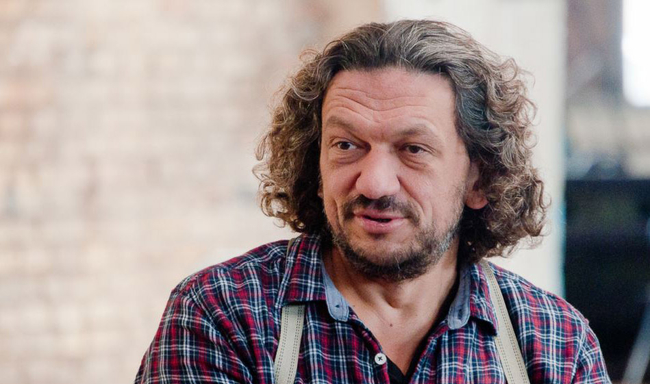 "In my opinion, it did no one good. Those who suffer from its appearance, will continue suffering as I am sure there will be no money for another reconstruction. The building will remain. Of course, it is a knife in the back for GogolFest. The city is deprived of the only truly contemporary theater space. The theater is left without a venue. I see no winners, not a single one, except for those protesting for protest's sake. Is it a kind of vanity: making sure that everyone is worse off? I do not see any other motivation rather than this. However, there might be a less obvious motive, political or financial."
How did the war affect the festival?
"Quite a lot, because I used to have lots of friends in Russia. But many of them went really nuts, I cannot even speak with them, let alone do things together. Meanwhile, the crackdown out there continues: just look at the Gogol Center trial. Against such a backdrop the rough behavior of some of our activists is really alarming. There are no winners in the dispute of the intolerant. It is a road into the precipice."
How do you see the future of Ukraine's culture and your personal projects?
"We have absolutely no social demand for sublime culture. There is a state cultural service, but what kind of standards it meets, who assesses its level, and what is the benchmark? There is no methodology. As a result, we get reactionary official culture, very much Soviet-style in terms of consciousness, there are few exceptions. Even the educated class lacks the understanding that it is the humanitarian sphere, and not economy, that ensures the progress of transformations in the country. A cynical society devoid of ethical principles is very unstable. The ethical imperative must be transmitted through some medium. This function used to belong to religion, now it is performed by culture, yet at the moment culture is failing in it. Moreover, there is no adequate policy for the formation of quality cultural representation of Ukraine in the world. Currently the idea of the Institute of Ukraine as our cultural embassy is being promoted. Yet judging on a lack of clear wording and clear criteria, it is doomed to become another inefficient and corrupt disbursement. We can only hope that civic society, which is slowly taking shape, will eventually understand that we will all be futureless without a relevant culture context. Unfortunately, this understanding does not come easily. It takes a certain maturity.
"One can only saw where the seeds germinate. Maybe the field needs to be narrowed. For instance, I have a great theater, the Dakh ("Roof"), where I saw my seeds, and wonderful flowers grow: DakhaBrakha, Dakh Daughters, Nova Opera, or our debutants Tse Sho ("What's this?"), a puppet cabaret which right after its premiere was invited on an American tour. They are young people, recent graduates of the Karpenko-Kary University, and their texts are socially up-to-date, sharp, and provocative. We are taking the opera Job to New York in January. In this respect everything is okay. Our festival, too, is very optimistic. I believe in people, but we are surrounded by an extremely inert, stiff machine, which defends itself very aggressively."
The Day's FACT FILE
GOGOLFEST is an annual multi-disciplinary international festival of contemporary art, most of whose events until 2010 took place in Kyiv at the Mystetskyi Arsenal museum. The festival program consists of five directions: theater, music, film, literature, and visual art. The festival was started in 2007 thanks to the private initiative by Vladyslav Troitskyi, director, head of the Dakh Contemporary Art Center.
Vlad TROITSKYI (b. November 26, 1964 in Ulan-Ude, USSR) is a Ukrainian theater actor, director, playwright, and TV presenter. He graduated from the radio technology department at the Kyiv Polytechnic Institute in 1987 and completed a post-graduate course at the same school in 1990. In 2002 he also graduated from the Russian Academy of Theater Arts (former GITIS), the department of acting and directing.
In 2003-09 he taught at the Kyiv State University of Film and Television (under Les Taniuk). In 1994, Troitskyi founded the Dakh theater, and in 2000 opened his school of acting. In 2004 he created DakhaBrakha, which he defined as an ethno-chaos band. Since 2012, Troitskyi takes part in producing the performances of Dakh Daughters. For a short time in 2013 he led the Kyiv Municipal Academic Opera and Ballet Theater for Children and Youth.
Troitskyi holds the Kyiv Pectoral Prize (2001 and 2002). He lives and works in Kyiv.