In the Czech Republic a new documentary picture is being made, entitled "Mykhailo and Danylo," a Ukraine-US co-production
22 February, 2016 - 17:36
Some 25 years ago a well-known documentary filmmaker Andrii Zahdansky (best known for Interpretation of Dreams, Orange Winter, My Father Yevhen, Vagrich and the Black Square) made a film Two. The poignant story tells about father and son (Mykhailo Shchyhol, artist from Kyiv, and little Danylo (Dania)), left alone with their grief – Dania was born with deafness and cerebral palsy, and a few years later his mother, talented sculptor Maryna Khusid, was tragically killed. It impressed spectators and professionals alike (having received the prize for "Best short film" at the documentary film festival in Yekaterinburg).
After a quarter century, Zahdansky decided to go back to the story of its heroes. Today they live in the Czech Republic, where the new picture is being made, the working title of which is "Mykhailo and Danylo." This is a co-production of Ukraine and the United States (MAGIKA-FILM and AZ Films LLC), Ukrainian producer is Hennadii Kofman.
Making predictions about the new work of Andrii Zahdansky's flawless talent is difficult and risky (even when you are a superstitious type), but I'm really looking forward to see the premiere of the picture, because I well remember my emotions after seeing the Two. That chamber movie was not complicated in shape, not loud in tone, not unnecessarily dramatic, but in half an hour of screen time it has stirred up my mind. My personal grievances, complaints, spleen, unfulfilled desires all seemed so small and insignificant in comparison with the concrete – so routine and at the same time so noble – story of two people, that to the tiniest bits of my soul came the understanding of power and significance of the familiar verbs – to live, to believe, to love...
On the life and fate of his characters, and on the film "Mykhailo and Danylo," speaks its director Andrii Zahdansky.
Andrii, when did decide to make a picture about the current life of Mykhailo and Dania, and what kind of argument prevailed: the professional, or the human one?
"It is rather difficult to separate human interest from the professional one. I cannot imagine my work, if my search has no human interest in its basis. Why then should I do all this? On the other hand, the human interest can be 'satisfied' by friendship, company, and reading; the professional interest tales at least one year of work. Often even more. In addition, the new film is completely different. It's about the same two people, but it is different."
In the film Two you asked Mykhailo about how he saw Dania's future. I remember the answer. And how did you see the already adult Danylo? What does he do? Did he adapt to an independent life?
"You remember all right. Then, in 1993, Mykhailo had hoped that Dania retains his hearing. That Dania would be able to hear, albeit to a limited extent. Alas, these hopes have not been confirmed. Danylo lives on his own – in Prague, Mykhailo – 100 kilometers away from the capital, in Zeleznice, a tiny town, which at the time of the socialism had the clinic for rehabilitation of children with cerebral palsy.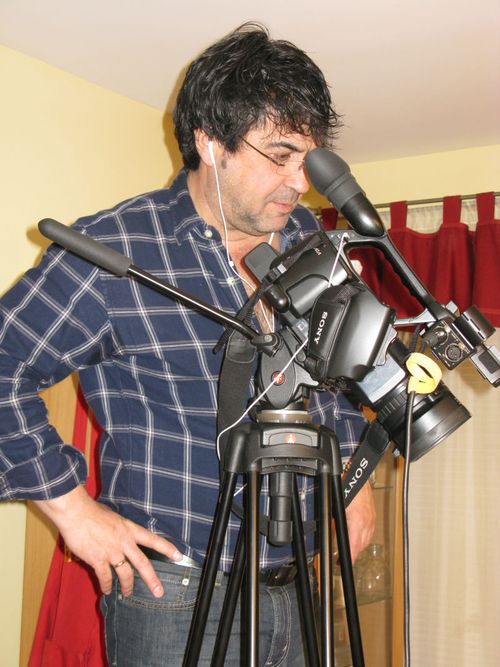 "Danylo works in a workshop that makes souvenirs. Every movement, every fulfilled manipulation is a small feat, which consists of almost chaotic motions, until one out of ten proves accurate. The same motion Danylo wanted to do in order to, say, weld a steel eyelet to a glass Tiffany flower. Anyone who sees how Danylo Shchyhol works will understand that they have no right to complain. Never. No matter what."
Making a documentary brings about ethical issues (I think so anyway). Long static plans of Danylo's beautiful face (as well as of the little Dania), sometimes distorted by a grimace of disease, are drawing the attention of the viewers, sometimes even forcing them to cringe, but they are extremely sublime (sorry for the pathos, I am speaking sincerely). And do you have any taboos when shooting?
"I do not think that I have a taboo – that is, something I will not do and something I will not shoot. Something 'I do not shoot' is most likely something that never came up to my mind, while a taboo involves a conscious rejection of something. It needs the decision to ban something. However, there is a certain degree of trust between your characters and you. You – the author – appreciate this trust. You and your camera appreciate, as you are one.
"And there are things that seem aesthetically wrong to me, dropping out of the plan. The plan is the measure of everything. It only manifests – or not manifests, for that matter – itself in each captured image.
"And there is yet something about 'grimaces on Dania's face.' One thing that cerebral palsy does – it renders Dania unable the facial muscles. His emotions are written on his face. Every one of us, one way or another, learns to hide their feelings behind a mask, but Dania is open to the world. He is emotionally naked. And this makes him beautiful – Danylo is really a very handsome man – and at the same time infinitely fragile, vulnerable. He is very interesting in terms of cinematography. His relationship with the world, with the work, with Mykhailo – seem to be 'visualized' on his face. But it is also a way to communicate with the outside world – Danylo is deaf, and not everyone speaks the sign language. This signals to the world that he is different."
One of the visitors of Mykhailo Shchyhol's painting exhibition "Diaries of Franz Kafka" have left a review: "A great combination of loneliness and love." I think this phrase describes Mykhailo's life accurately, as well as his relationship with his son, with the work. And if you were asked to write a slogan for your future film, what would it sound like?
"I think that the author of the film should not come up with a slogan to his own work. I confess, writing a summary for a film of mine is excruciating. It requires a huge generalization, but for you as the author, everything is in the detail, in the allusions, which carry many complex meanings. But I would venture to say that this is a movie about overcoming despair. Both in larger, philosophical sense (for those who have read Sartre), and in the daily, routine meaning. Mykhailo and Danylo alike overcome the despair of their lives and fates every day. So, in the style of the comment you just quoted, this is 'a film about despair and love.'"
Not all men (few, to be honest) are capable of such sacrifice as Mykhailo. In your opinion, what has been driving Mykhailo above all – was it his love for Maryna, his duty as a father, or something else? How would you define the relationship between Mykhailo and Danylo?
"Not all men have faced such a choice. Fate had decided everything for Mykhailo – the birth of a deaf child with cerebral palsy, and then the tragic death of a young and talented wife Maryna Khusid in a car accident. What was driving him? But what alternatives did he have? He had no alternatives. His duty, his love, the acceptance of his fate. Here is my answer. Or, more precisely: my guess. How would I have defined their relationship? Very simply, I would say: it is love. And all the other details of it will be shown to the audience in the film."
At what stage is the work on the film now?
"Everything is boiling and yet everything is raw – it was a saying at Kyivnaukfilm studio, where I started my professional and creative career. Many things have been filmed, many remain to be filmed. I have absolute faith in the project, which is shared by my co-producer Hennadii Kofman. I am going to finish the film in the coming year."
Where do you plan to hold the premiere?
"The premier is planned everywhere. Wherever they want to show our film (laughs).
"You know, I'd like to see this movie also becoming an instrument of social change. At least in Ukraine. Thirty years ago – when there was still Soviet Union – no medical and social services (the latter simply did not exist) could help Mykhailo and Dania. I would like everyone here to understand that it is possible: if not overcoming cerebral palsy, then adapting to it, and helping both the sick and the healthy. After all, such disease is a blow to the whole family. And we need to give these people a full life. Ukraine has taken the path of European integration, which to me means primarily one thing – the adoption of the European humanist values. If the next generation of children born with cerebral palsy or any other congenital diseases could be treated and rehabilitated in comparable terms with the treatment they receive in Europe or America, and if our movie is destined to play a role in this development – I'll be happy."