The well-known volunteer who distributes our newspaper weekly in the ATO area spoke about the information blockade and the importance of the Ukrainian word on the frontlines
1 August, 2017 - 11:26
War reporter and well-known volunteer Anna Dombrovska has been on the frontlines for more than two years already, where she makes striking documentaries about the war and the living conditions of the ATO area residents. Endless bombardments, the lack of household amenities, electricity, heating, water, food, and, most importantly, objective information about what is actually happening in the country – these things have pushed Dombrovska to turn to volunteering.
Today, she delivers on her own 9,000 copies of the Visti Donbasu newspaper a week to residents of frontline cities and villages. Starting in July, Dombrovska has been making pilot deliveries of 1,000 copies of the Den newspaper to the frontline area. Newspapers and delivery are provided by the Charitable Foundation in Support of the Newspaper Den's Initiatives and the Muzbat creative association. Starting in August, she plans to increase deliveries to 5,000 copies a week. For this purpose, she launched a charity fundraising drive on Facebook.
Talking to the volunteer who visited Den's office while she was in the capital lately, one understands that with her work, she tries to set an example, to show that one can and should combat Russian propaganda, in particular in the east of Ukraine, in all possible ways.
"In November 2014, I arrived in the ATO area as a journalist of the Russian publication Za Prava Cheloveka. When filming stories from the frontlines, I tried to show the truth about the Russian aggression against Ukraine, to explain to the audience that there was no romance in the war, but only blood, death, and woe [many have watched Dombrovska's video A Night in the ATO which has already had 1,300,000 hits on YouTube; a shell exploded just as the video was being shot. – Author]. Communicating with people who live on the frontlines, I realized that they had practically no information about what was actually happening in their country," Dombrovska said as she was visiting Den's office, having returned from the east for a short while. "I began to look for a way to bring newspapers as well as to make video reports. I contacted volunteers and community activists in several cities. Little by little, newspapers began to come. An effective solution of the problem of getting enough newspapers was found at the ATO Press Center, where I began to collect 1,000 copies a week, then 3,000, and it gradually increased to 9,000. From that moment on, I started distributing Ukrainian newspapers in every location that I filmed reports at and in all villages along the route to the location."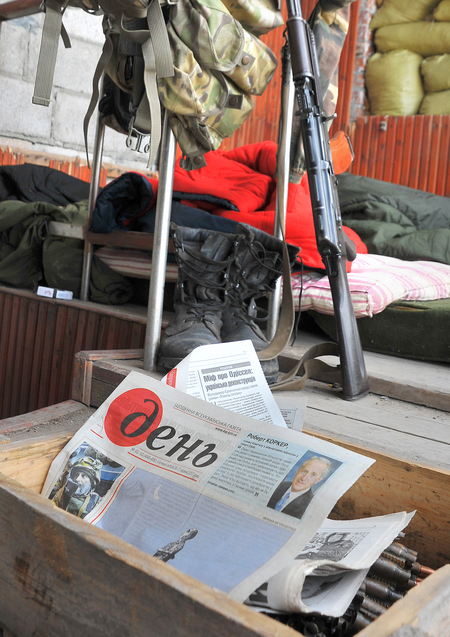 Photo by Alina Komarova
And thus, volunteering has become your main job, has not it?
"Yes, it has gradually become a habit, and it has practically become my main job by now, one of the main causes for me, because volunteering in the east of Ukraine is very important. I want to do everything I can to help people to survive the war. Together with the newspapers, I bring bread to Kamianka, Vesele, and Vodiane (all of them lie close to Avdiivka and Donetsk Airport). There were stores in these villages before the war, but now they are ruined due to bombardments, the mobile shop comes infrequently, and the nearest store is 8 to 10 kilometers away. The information space of the ATO area is almost entirely under Russian control now. The airwaves are packed full with Russian and 'Donetsk People's Republic' TV and radio channels, while Ukrainian ones are accessed with great difficulty. For people living in the frontline zone, Ukrainian newspapers are practically the only source of objective information about events in the country. Interest in the newspapers is very high. People are constantly asking me to find a way to bring them fresh Ukrainian publications. In July, we began pilot deliveries of 1,000 copies of the Den newspaper to the frontline zone. Residents took the newspaper very well. From the regional publications, they had mostly learned about local news and information on where and how to solve local problems. Meanwhile, Den is liked for its diverse contributions about the current events in Ukraine and the world, culture news, economic forecasts... Residents of the Donbas are pleased to realize that the same issue is handled by readers in Kyiv and Odesa, in Lviv and Dnipro. Den effectively brings the country together! Contrary to the dominant opinion, people in the frontline zone are happy to read newspapers in Ukrainian. While in 2015, I occasionally heard citizens saying things like 'Why have you brought us Ukrainian propaganda?' now people understand that the newspapers are publishing objective and truthful information.
"Perhaps after reading our conversation, people will appear who would like to support my work, for example, by skipping a pub or a movie visit, and transferring money instead to buy newspapers for residents of frontline cities and villages. I plan to increase the volume of delivery to 9,000 copies a week, and this is quite doable. We have an interesting trend now with not only Ukrainians, but also residents of Europe, the US, and even Russia donating funds to combat Russian propaganda. I am even accused sometimes of accepting rubles from citizens of the aggressor nation. However, by and large, volunteers who really help at the front do not care where the money comes from. The main thing is how it is spent.
"In addition to delivering newspapers and bread, I repair medical and ambulance vehicles operating in the ATO area. These vehicles were delivered by volunteers in 2014-15, and many of them need repairs now."