About the Ukrainian stand at the Paris Book Salon
4 April, 2018 - 16:06
This year's Book Salon in Paris was a significant cultural and political event for Ukraine. Why did it happen now, and why was it important? There were several reasons for that.
WHEN OUR CULTURE IS "INVISIBLE," PROTECTING THE NATION'S POLITICAL AND ECONOMIC INTERESTS BECOMES HARDER AS WELL
In recent years, Ukraine did not have a stand and did not present its literature to the French public and potential partners at the largest book fair in France, so it was "invisible" in this field. And when our culture is "invisible," protecting the nation's political and economic interests becomes harder as well.
It is especially true when our opponent is Russia, which, by the way, was a guest of honor at the Paris Salon. And this obtrusive presence shocked us even more after we learned of the invitation sent to the "Donetsk People's Republic's soldier" Zakhar Prilepin as a speaking author, "one of the most prominent representatives of his generation," and "a talented writer." Despite the Ukrainian community and official representatives of Ukraine asking the Ministry of Foreign Affairs of France to clarify things, no explanations have been received.
Therefore, Ukrainian activists organized a protest event, which I would describe as "elegant," silent and at the same time very eloquent. They held posters reading in French: "Prilepin is a terrorist," "Prilepin finds his inspiration in killing Ukrainians," "Prilepin's hands are covered in Ukrainian blood" and so on. They aimed to attract attention of primarily the French public, since engaging in polemics with the Russians was clearly meaningless.
CONSTRUCTIVISM OR A SYMBOL OF THE SOVIET ERA?
As for me, the design of the Russian stand completely reflected the Russian reality and essence: a huge red-colored metal square hung overhead, resembling prison bars and making a depressing impression. This hint of constructivist style, easily recognizable and well-known in France, may have been the right idea for attracting Western visitors. But it reminded me solely of the repressive Soviet era. Is not it a bitter irony of fate to see on such a stand portraits of the poets of the "Silver Age," like Sergei Yesenin, Boris Pasternak, and Anna Akhmatova, who were in one way or another persecuted by the authorities in the Soviet period?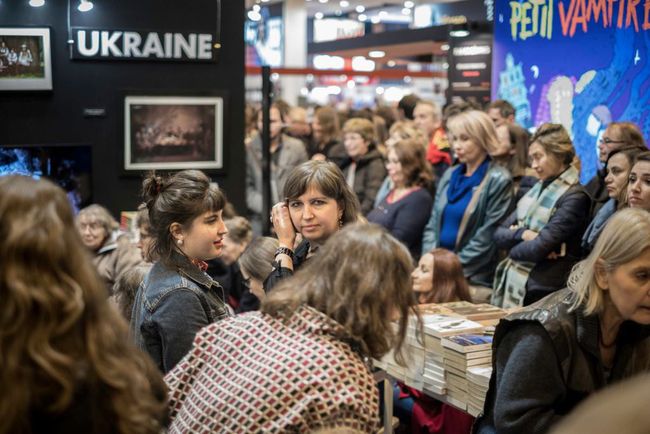 Since we cannot compete with Russia financially, our team focused on creativity. And we can really be proud of our stand, whose design was developed by Nadine Kobylko, a French architect of Ukrainian descent who represented the MAINO team. It combined several elements that created a unique style: paper-cuttings, photos, an antique chest, and the contrast between black walls and white letters.
UKRAINIAN PAPER-CUTTINGS AS A GUIDING LIGHT IN THE LABYRINTH OF BOOK STANDS
Despite its small area, the stand turned out to be atmospheric. Also, due to the interesting and rich program, it saw a lot of visitors every day. The giant lace-like paper-cuttings by Daria Alioshkina did not just please one's eye and amaze one's mind. They also served as a guiding light in the labyrinth of book stands in the large building occupied by the salon.
The stand was also decorated by an authentic chest that gave the entire interior an authentic flavor (it was brought there by the Rodovid Publishing House, which presented the French edition of its extremely stylish art book The Chest: Articles of Force).
At the same time, the photos by Youry Bilak, a French photographer of Ukrainian origin, which had been made during the Donbas War and were demonstrated non-stop on a monitor screen and a wall of the stand, reminded us that the war continued while we were discussing literature and art. Bilak has a special talent to show beauty and aesthetics even where it can be difficult to find them.
All the selected elements (the paper-cuttings as well as the photos and the chest) surprisingly, emphasized in a very subtle manner the connection between the ancient Ukrainian traditions and the present, the past history and one which is happening as we look on, the connection between different generations of diaspora Ukrainians and Ukraine itself, which together create our culture and its future.
FRENCH ARE INTERESTED IN THE PRESENT SITUATION IN UKRAINE
Invitations for the Book Salon were sent primarily to authors whose works had been translated into French, or participants of various projects designed to tell the world about the current situation in Ukraine. Visitors had an opportunity to hear a speech by Sofia Andrukhovych (a translation of her book Felix Austria recently appeared in France), discuss the Crimean issue with Gulnara Bekirova, talk with Haska Shyian, Irena Karpa and Iryna Slavinska about the place of women in contemporary Ukrainian literature, listen to Yaroslav Melnyk, Andrii Kokotiukha, Volodymyr Rafeienko, Volodymyr Yermolenko, and meet with the publishers Mariana Savka and Anetta Antonenko. The books of our authors in French and Ukrainian (this year's selection was quite broad) were presented at the stand and sold there thanks to the efforts of Lisa Centkiewicz and her online store Boutique Ukrainienne.
I, meanwhile, had the privilege of moderating a meeting with Andrey Kurkov, who is a well-known writer in France (his books have been translated into French for almost 20 years), and the young author Bohdan Obraz. Our conversation focused on Kyiv and Paris. The authors tried to answer the question, "what is the specific of Kyiv and what does it mean to be a Kyivan?" I believe that Kurkov's recollections of Kyiv cafes, which once were a venue of intellectual life, added warmth and nostalgia to the conversation and were its centerpiece. After all, it is very important not to lose the link between epochs, preserve memories and the spirit of the city and pass them on to our successors. I also had the opportunity to mention my own book, which appeared in Ukraine in September 2017 and does not yet have a French translation, but is also dedicated to cities, its title being Paris and London: Capitals of My Life.
We could not evade the topic of Maidan and Kurkov's Ukraine Diaries either. French readers often raise political issues and are interested in the present situation in this country, in particular the changes that have taken place, and those that have remained only expectations.
There was also a children's program on the stand: Alioshkina taught them to make paper-cuttings, while I offered them city-themed colored pages, featuring Paris, London, and Kyiv.
Therefore, I would like to thank the organizers, in particular the translator Iryna Dmytryshyn, the culture secretary of the Embassy of Ukraine in France Irena Karpa, and the director of the Cultural Center at the Embassy of Ukraine Natalia Kochubei, as well as all those involved in the creation and vital support of this stand. The Ukrainian program became an event worthy of attention!