The world premiere of the Ukrainian film When the Trees Fall was held at the 68th Berlin International Film Festival
1 March, 2018 - 11:47
Created with the support of the Ukrainian State Film Agency and with the participation of Poland and Macedonia, the feature-length debut film by Marysia Nikitiuk was entered in the festival's Panorama competition program. The premiere was held at the Cinemaxx cinema.
The story of the five-year-old rebel Vitka, her teenaged cousin Larysa and the latter's lover, a young hoodlum called Scar, unfolds in the Ukrainian sticks. After the death of her father, Larysa faces the need to urgently do something about her future; she wants to escape from the provincial swamp, but Scar has different ideas about it...
Marysia Nikitiuk (born in Kyiv in 1986) is a Ukrainian scriptwriter and director. She graduated from Shevchenko National University of Kyiv's Institute of Journalism in 2007. Nikitiuk went on to receive a master's degree in theater studies at Karpenko-Kary National University of Theater, Cinema, and Television in Kyiv, with her graduation work dealing with traditional and contemporary Japanese theater. She worked as a journalist, essayist, theater critic, authored a series of stories published in the literary almanac Sviaty Volodymyr, as well as plays Dachas, Bears for Masha and Girlie Joys, which were presented via public readings within the framework of the Laboratory of Modern Drama project and during the Week of the Actual Play festival in Kyiv, which she co-founded. Bears for Masha placed first at the Drama.ua contest in Lviv in 2010. She also penned short stories Die: A Story of Love; Kawasaki Ninja; Libraries of Unwritten Books; Myth; Bitches, as well as founded the theatrical portal Teatre.com.ua, where she wrote about the Ukrainian and international theater from 2007-12. Nikitiuk participated in the film project Ukraine, Goodbye! Films that she made scripts for were entered in international festivals in Locarno and Clermont-Ferrand.
When the Trees Fall became the first Ukrainian feature film in the Panorama contest in many years. We met the director the day after the Berlin premiere.
What did the work on the film begin with?
"My childhood memories. One situation became the proximate cause. At some point in 2012, I was going home from the Odesa Film Festival with a friend of mine. I was telling him a story from my childhood and I accidentally started adding items that had not been there. And at the end of the trip, it was already a narrative sitting on the border of truth and fabrication. On returning, I realized that now I could write it down. But the first impetus was to explain my own traumatic reactions to this world through the story of my young self."
How did you come to filmmaking in general?
"Indirectly... I have had no proper training as a director, and I have not had teachers in the classical sense either, as they have been rather mentors; for example, I met them in Vlad Troitskyi's theater and drama milieu called the Laboratory of Modern Drama; then we joined Volodymyr Tykhyi in writing scripts for the project Ukraine, Goodbye! I became friends with Volodymyr Voitenko there. He motivated me to start making films because I was always saying that other films were not done as I would have liked them to be, so he told me: 'It will always be like that, so you better go and make it yourself.' He provided me with films and books. I went to scriptwriting and directorial workshops.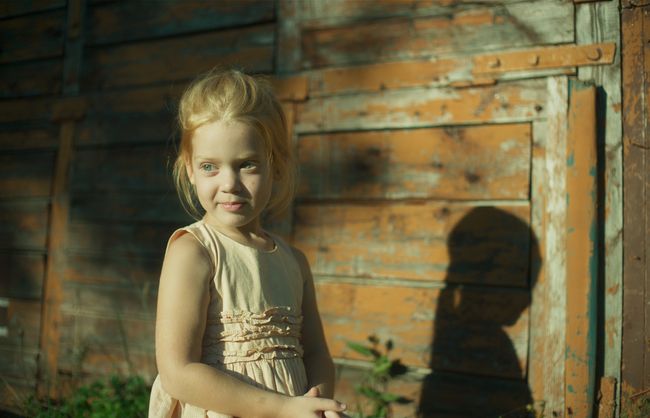 "And in the aesthetic sense, I am very close to Lars von Trier, I have fallen in love with the films of Bela Tarr [a leading Hungarian director. – Author], Roy Andersson [a well-known Swedish director. – Author], and Hayao Miyazaki [an illustrious Japanese animator. – Author]. I watched their works through and through to try and get 'how is it done.' So they are also my teachers."
What impression did the invitation to Berlin make on you?
"I was astounded. I really wanted to go to Berlin. I applied to the festival's talent campus for four consecutive years, and they finally accepted me this year, and then suddenly accepted my entry for the Panorama program as well. Out of all the festivals I visited two years ago, Berlin impressed me the most. There are many strange films here, a lot of different activities revolving around the film art. We got the message on Christmas Day, and I took it as a gift for the holiday."
What makes for a good script?
"First of all, you need a certain stock of emotional ups and downs. I am an emotional person myself, and it affects me most... A character can reveal themselves both negatively and positively; here he is a scumbag, and suddenly he performs a powerful humanist act. When I hear or read such stories, I immediately think how they can be developed. Also, it is very important for me to tell something about humanity in the plot. That is, on the one hand, it is about emotions, and on the other, about scientific interest."
Why is scientific?
"I read a lot of works on astrophysics, neurobiology, and anthropology. Unfortunately, I cannot do any of it professionally, but I am very interested in it. One way or another, all the sciences tell about people. Just now, I am reading an anthropological treatise and discovering for myself why people behave like they do, who we are, what we do with the planet, with ourselves. This intersection of my hobby and emotionality leads to the fact that I want to tell something new about a character, something that I learned from experience or from books. I have even ideas for sci-fi movies. If only I had the funding..."
The first people you meet on the set are the actors. How do you work with them?
"I am not really dictatorial, but when something goes wrong, I can switch to the fury mode. I allow them to improvise, I had very lively remarks because I worked in a documentary theater, staged a play with Natalka Vorozhbyt. On the other hand, I was fearful when I had to deal with so many performers, so we rehearsed a lot and went through the text again and again, and the theatrical director helped in this as well on his own. Another challenge is to bring actors of different generations to one level of existence, since, for example, every old artist has their own theater, where they have played for 25 years, while the young ones had different teachers, and this also leaves its mark. I said on the set: 'You can move words about, or add new ones, as long as the message stays intact.' Sincerity has been preserved."
Now that you have finally looked at the final version, what is your picture about?
"Still, it is about the need to be true to oneself. To be oneself. It is a little banal, but I was making the film about it. And about freedom, of course."
Honestly, have you succeeded in everything with it?
"Of course not. I have failed in a lot of ways, but I am resigned to this, I have decided to stop nagging myself, and will correct my mistakes already in the next project."
What do you expect from participation in the Panorama program?
"All that I expected I have already received. I dreamed of getting to a good festival and bringing to the premiere as many of my actors and team members as possible. For most of them, this is their first visit abroad, their first flight. So, my expectations have been met. We may win a prize or not, but living in hopes for one would not be very reasonable."
What is missing in the Ukrainian cinema now?
"Most of my friends who are young and middle-aged directors lack realization opportunities. Many have scripts for feature-length films ready. I am sure their next films will all be better than the previous ones, and from an aesthetic point of view, everything is fine with us. We just need practice, and to avoid the transient festival fads. Also, it seems to me that we do not have to appeal to the masses at any cost, because if we do not specialize the audience, then, just like the TV is already doing, we will bring it down to the lowest level. Some poorly made productions may do better in the box office than higher-quality movies, but it is precisely higher-quality movies that have longer-term prospects. People need to reduce their appetites a little and build a diverse and high-quality film industry."
What will you do next?
"I will make Serafima, a film adaptation of the namesake story by Oles Ulianenko. We won the 10th pitching contest of the State Film Agency, and are currently negotiating with French producers. The girl Sonia, who played in When the Trees Fall, will play in the new film as well. If everything keeps going as it does now, we will start principal photography in the spring of 2019, and then we will see. I hope this movie will be better than the previous one."