Viacheslav DOVZHENKO: "One does not necessarily have to fight with weapon in hand, because ideological weapons sometimes hit better and more accurately"
30 January, 2018 - 10:44
Viacheslav Dovzhenko knows very well what popularity is. His participation in numerous TV series, films, and performances in Kyiv theaters has made him famous with many Ukrainians. However, the audience interest became truly overwhelming after he starred in the film Cyborgs, which is now being successfully shown all over Ukraine and where Dovzhenko played a leading role of a defender of the Donetsk Airport, the commander known by his nom de guerre Serpen. By the way, on February 1, a creative meeting with the actor will take place in the Lira Cinema in Kyiv, where he will speak about filming of the picture which is now included among the best films of 2017, while on January 26-27, his employer, the Theater in Podil, hosted the premiere of A Girl with a Teddy Bear, or A Minor..., which is the first stage adaptation of the namesake novel by Viktor Domontovych (adapted by Pavlo Arie, directed by Stas Zhyrkov) and combines images of 1923, 1928, 2018, and even 2028... It is tough, funny, sad, beautiful, and absurd – and it says all this in the Ukrainian theatrical language, although not without an "accent," while Dovzhenko will play the role of the teacher Ipolit there.
"DO NOT SHOUT, THE CAMERA IS NEXT TO YOU!"
The film career of Dovzhenko began in what was a landmark film for the Ukrainian cinema, a product of the famous film director Yurii Illienko, where the young actor played the Russian Tsar Peter I in partnership with Bohdan Stupka, who created the image of Ivan Mazepa. Although A Prayer for Hetman Mazepa met with mixed response over its interpretation of the hetman's controversial role in the history of Ukraine, beginning a creative career in the company of such masters and with such material became invaluable experience for the actor Dovzhenko.
"I had to play Peter I in a phantasmagoric, caricatured form. Moreover, it was my first role in the cinema, and I was 24," Dovzhenko recalled. "I worked side-by-side with such masters as Illienko and Stupka! The work process was extremely interesting and instructive. They supported me and taught me the specifics of cinema. Stupka told a story from the time when he first came to the set, when Kost Stepankov suggested to him: 'Bohdan, speak as if you are in the kitchen, do not force the sound, you are not in the theater!' And when I was starting to overplay something, to grandstand in conversation, Stupka would always repeat: 'Do not shout, the camera is next to you! Play as if you are in the kitchen!'"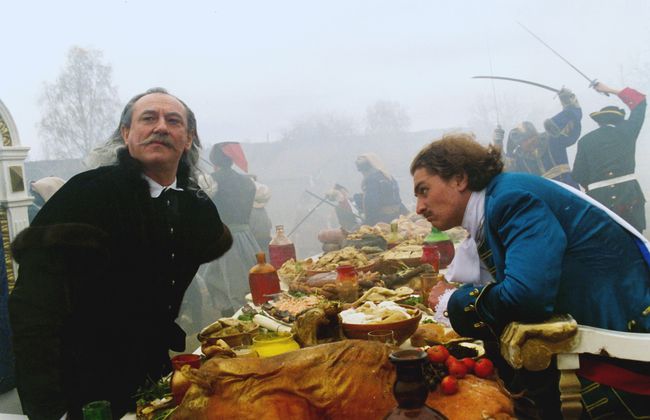 THE ROLE OF PETER I IN THE FILM PRAYER FOR HETMAN MAZEPA WAS THE ACTOR'S DEBUT / Photo courtesy of Pylyp ILLIENKO
After starring in A Prayer…, the actors often communicated. "Stupka asked me once what actor was it more important to be – a popular or a good one? And at that moment, I realized that I wanted to be a good actor. Popularity is instantaneous, it can disappear in a moment, just as it appeared. Meanwhile, the profession, the craft is what you will learn and it will be with you. My theater school teacher liked to repeat: 'An artist is like a good cognac.' I did not really understand what he meant in my youth, but now I think so too. You have to develop, maintain your talent all the time, never stop, never become a self-admirer, reach the peak in every job, and then this 'aging' will bring fruit, like in cognac."
"AN ACCIDENT DECIDED IT ALL"
"I had no specific thoughts about acting as a child, although at the intuitive level, I did experience attraction to some creative disciplines, liked to sing very much, wrote short poems, successfully attended art classes," Dovzhenko admitted. "There were no creative professionals in our family, and nobody inculcated in me a striving to become an actor, except for my grandmother, who was a doctor and amateur actress, and wanted me to become an actor or a doctor. My fate was seemingly decided by my dad, as I was to enroll at a railway school and had already submitted my papers there. But everything changed due to an accident. My friend, who studied at Dnipropetrovsk Theater School, was transferring to Kyiv Stage and Circus School and asked me to accompany him as he retrieved his papers. So I came to the theater school and immediately fell in love with this charming, noisy, incomprehensible atmosphere, where everything was spinning and raging as everyone was rehearsing, singing, playing in every corner... And when they told me they would like me to join them, I went and disenrolled from the railway technical school. The father of my friend, who was an actor, prepared me for the exams and I joined the theater school. This was a surprise, but I am convinced that such accidents are actually natural...
"The Dnipropetrovsk school has always been famous for its training level, strong teachers, creative base, serious vocal training. My diploma included an annex stating that I had the right to work in musical theaters and operettas. I always liked to sing, and they taught me to do it there as well. After school, I joined the Shevchenko Dnipropetrovsk Theater company, and when I went to submit my papers to Karpenko-Kary Institute, my reference read 'Actor of the 1st class.' so they asked me: 'What for will you learn?'
"In the stormy 1990s, I had to take many jobs, worked in various theaters, even tried to make a living in business for a time. Still, I ultimately graduated from Kyiv Theater Institute, but it was the faculty of directing this time, the course of Kostiantyn Dubin. My graduation work was Fernando Arrabal's war-themed play Picnic, staged at the Zhytomyr Theater. The main idea of the show was the statement that the war is a territory of absolute evil, and everything there is always cruel and absurd by its very nature.
"When I moved to Kyiv, I continued to look for a career, even sang on the stage for a year and a half, but did not really establish myself there. One day, my friend Andrii Sharaskin, who then studied at the faculty of directing at Karpenko-Kary Institute, convinced me to return to theater. I phoned my director acquaintance Artur Artymeniev, who I knew from school in Dnipro, he had just opened the Free Theater in Kyiv at that time, we talked, and I began rehearsing and looking into the repertoire the next day. There were good creative people there, they staged interesting, memorable performances, like Jonathan Livingston Seagull and A Dialog of Males, we brought them to many festivals. But eventually, hardship started, and the theater somehow expired by itself.
"My teacher of directing convinced me to enter that profession, but I want to be an artist in the end, and the knowledge of directing very much helps me on stage, on the screen. And in general, it enables one to better understand the director who works with you, the specifics, the nuances, gives the opportunity to overcome certain doubts as to what you are doing and how. So, you can say that my inner actor has won, I do not strive to be a director now, it has just enriched me."
"ONE SHOULD LOOK FOR CREATIVITY INSIDE ONESELF, ACCUMULATE IT AND CONVEY IT TO THE TEAM"
"I and director Maksym Holenko decided to stage The Clockwork Orange, we began to rehearse, found a basement in the Kyiv Mohyla Academy, where the students then painted walls, ceiling, floor, and made it into an ideal space for this show. By the way, the Pasika Theater Center started precisely there and then. The performance was a success. The choreographer Olia Semioshkina worked with us then, and she said once that Vitalii Malakhov wanted to meet me. At the meeting, he said that he had heard about my work, he would not hold an audition, he needed an actor of such a type, so he simply told me to come. And so I joined the Theater in Podil. Since 2011, I have had to reconcile certain things, because I did occasional jobs in the cinema, needed to leave the theater for a time and to come back again, but everything is going well now again. We understand each other at a glance, I can confidently say that Malakhov is my chosen director, we look in the same creative direction, which is very important for shared creative activity.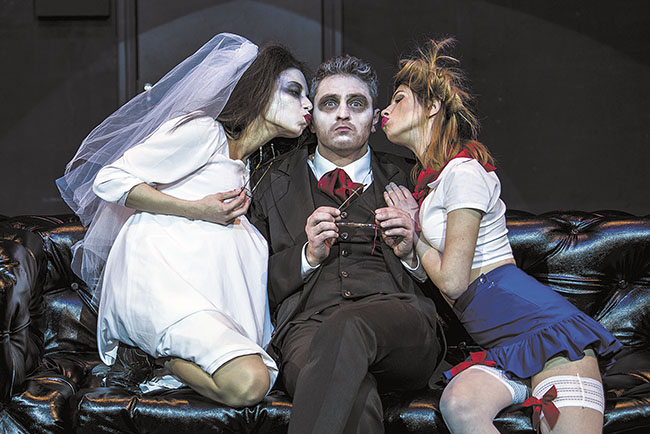 ON JANUARY 26-27, THE THEATER IN PODIL, HOSTED THE PREMIERE OF A GIRL WITH A TEDDY BEAR, OR A MINOR..., WHICH IS THE FIRST STAGE ADAPTATION OF THE NAMESAKE NOVEL BY VIKTOR
"One should look for creativity inside oneself, accumulate it and convey it to the team, enriching it with oneself. I think that it is necessary to complement the team creativity with oneself, and not to become a shapeless mass which is indiscernible on the stage. I was received well at the Theater in Podil, I feel that this is my team, I am warm and comfortable there in every sense...
"Cinema and theater are different forms of art. While theater creates a picture on the sand, one we draw for the audience here and now, cinema is a picture on the canvas. Of course, the process of creativity is present in both environments, but in the theater it is continuous, while in the cinema, it is limited in time. These two processes are so deeply embedded in my creative life that I cannot imagine myself without both of them."
"WE, THE ACTORS, REALLY FELT LIKE CYBORGS IN THE RUINED DONETSK AIRPORT"
A major period of Dovzhenko's life is related to the film Cyborgs. The creators of the movie (director Akhtem Seitablaiev, screenwriter Natalia Vorozhbyt) managed to avoid the false pathos of the ideological agitation product, as the story is told at the highest degree of sincerity and perceptiveness, truthfully and frankly, so that it reaches the heart. Each of the heroes of this modern Ukrainian story organically fit his image, played in an almost documentary manner, reliably creating on the screen a sense of the breath of true life, experiences, fiery explosions, the shocking senselessness of the confrontation, the unconditional belief that one's homeland is worthy of sacrificing one's life.
Although Dovzhenko never served in the army, he created a very convincing image of the cyborg Serpen, and this, in a certain way, was him doing his military duty to the Motherland as a man and an actor. What he did in the picture serves as an example and inspiration for many patriots. And by negating the idea of the absurdity of death, he calms down family members and relatives, inspires faith in victory, in memory, supports those who became prototypes of heroes who live on the screen. The joyous exclamation of a boy who suddenly saw the actor: "Serpen is alive!" was, of course, the most sincere and most direct expression of sympathy for the cinema hero!
"The idea of the film occurred to the director Seitablaiev after he participated in the TV program Brave Hearts, which featured the real heroes of the ATO, including 'cyborgs.' Then he met with the screenwriter Vorozhbyt, they held long talks about the content of the future film, outlined the plot, met with my close friend Sharaskin, who had been a direct participant in the events and took part in Brave Hearts," Dovzhenko told us. "Vorozhbyt wrote the script, traveled to the ATO area, talked to soldiers, grasped what she had learned. At that time, I and Seitablaiev were starring in the series On the Line of Life, he told me that he was planning to shoot such a film, but my participation was not planned...
"After the series ended, casting director of the studio Olha Klimenko called me and invited for an audition. They sent me the words. I learned later that many of my actor acquaintances were auditioned. Seitablaiev offered me to play the Serpen and Mazhor scene, when they talk about Nikolai Gogol, he wanted to understand how I felt this text. And I did that episode in a low-key, soulful manner, acted emotionally, thoughtfully. The director liked it. He asked me to emphasize the final phrase, one saying that it is necessary to erase the borders, but to remember them still, because it may happen that there will be no place to return. He talked about his native Crimea, the impossibility of going there because of the Russian annexation, his inability to see relatives... And it touched me so much that I was tearful when doing the episode. Seitablaiev approached me, kissed me in the forehead, thanked and said that 'the period of filming is such and such, get ready, there will be trips to locations.'
"On Christmas 2016, they told me that I was approved for the role. I immediately wrote a message to Sharaskin: 'I will play you!' He replied: 'Thank God it will be you!' 'Yes,' I answered, 'Be glad that Sergey Bezrukov will not play you!' And then this joke made rounds through battalions, our men told each other that Bezrukov wanted to play in the film, but Seitablaiev did not approve of it! In the process of filming, Sharaskin did not advise me how to play the role, and the fact that I personally know him well helped me create the character. He only said that I would do well by not making Serpen into a fanatical nationalist, he had to be shown as intelligent, restrained, and persuasive. The image of Serpen is an artistic generalization... Scenery for the film was specially constructed thanks to the efforts of the wonderful artist Shevket Seidametov. He built the studios based on photos. They were filmed in a village near Kyiv. Internal locations were created in a huge hangar, while external scenes, large-scale outdoor scenery, battles, vehicle movements, the road to the airport were filmed at a runway near Chernihiv. We got that space provided, they helped us with ammunition, weapons, tanks, soldiers, the help was extremely substantial. We filmed for about four months. And although we needed to create the illusion of the grandeur of the structures pictured in some scenes, the quality was our top priority.
"The filming process was very careful, each scene was rehearsed and marked out without fail. Seitablaiev knew well what he wanted to achieve with every episode, and at the same time gave us the freedom to act. He could sit silently for a while, but when he went out to the set after cameras stopped and kissed one of us in the forehead, we realized that everything was going right. Due to the fact that Seitablaiev is a very restrained, even secretive person, such a manifestation of his emotions was the highest praise for the actors.
"The psychological load was enormous, not to mention the physical one. For example, I needed to climb on a tank in full battle gear, to open a hatch, to pull a soldier from there and to jump to the ground while firing my weapon. The tank is about two meters high, the hatch weighs 60 to 70 kilograms, and after 10 takes, this action took an immense effort from me. In general, battle scenes were scrupulously scrutinized and developed, because there was a high probability of injury and we were in no position to lose a take, because so much material and human effort was spent on it. Although we were making a pure feature film, the flavor of documentary cinema, the feeling of events happening 'here and now' are present, the director made it into an artistic principle. We, the actors, really felt like cyborgs in the ruined Donetsk Airport... I am proud of my friend Sharaskin who volunteered for the front service and set an example for many.
"Thanks to the picture, I acquired a lot of acquaintances among ATO soldiers, they write letters, convey greetings, even send gifts to me. Recently, I received a large photo from the 24th Brigade which shows soldiers near a tank at the frontlines... I look at this picture every morning and pray that they are all still alive and healthy, so that I can shake hands with them someday."
"WE ALL DO THE SAME JOB, OUR MEN AT THE FRONT AS WELL AS ACTORS ON THE SCREEN..."
"By the way, the film Cyborgs has had a bombshell effect on our northern neighbor, becoming a truly hard-hitting part of the information war, which is now no less important than shell bursts. Russians are indignant. And besides, it continues to be successful in the box office throughout Ukraine. Our film has united the nation! Even those who are fairly loyal and do not fully understand what is actually happening in eastern Ukraine, do not remain indifferent. We probably need more such films.
"Our work on this picture has become a mission in the fight against the enemy, as one does not necessarily have to fight with weapon in hand, because ideological weapons sometimes hit better and more accurately. We all do the same job, our men at the front as well as actors on the screen, and together we protect our people and defend the national interest. The impressions of my sons, Ivan and Vasyl, from watching the film Cyborgs were very important for me. It was interesting to observe how the children reacted very emotionally to what they were seeing. I think this picture sent the right message for the future of this country...
"Today, people look at me differently: when they recognized me as a series actor once, it was one kind of emotions, while my role of Serpen is a completely different story. I should be worthy of such a high bar set by the life of this hero and merit such an attitude to myself. I can say that Seitablaiev is my film director, we 'look' in the same direction! It is not for nothing that after Cyborgs, we address each other only as 'brother'! I hope for new jobs with Seitablaiev, I would like these films to be no less important than Cyborgs. Success is inspirational, so I want to keep working, and most importantly, to work honestly."