To survive till dawn breaks
Maryna Bondas, a Ukrainian-born German violinist, visited Avdiivka during the worst flare-up recently
22 February, 17:51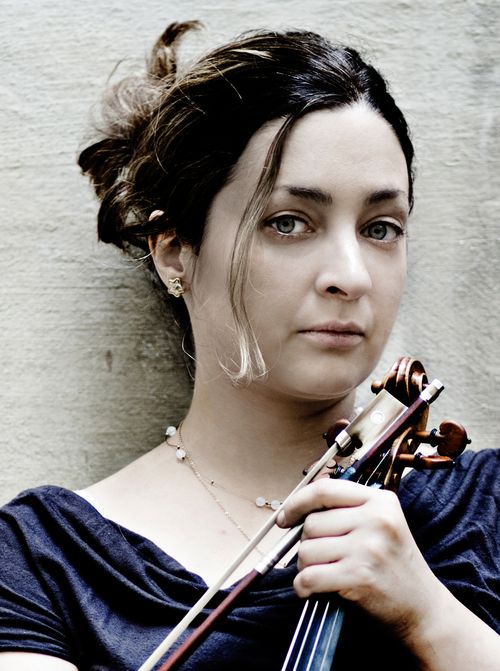 As she registers the roar of a plane outside, Maryna freezes in her tracks: "This is exactly how Grad sounds, but it's shorter."
Maryna was born in Kyiv into a family of musicians. She has lived in Germany since 1993; she studied at the conservatoires of Wurzburg and Berlin and now is a violinist with the Berlin Radio Symphony Orchestra. Since the beginning of Russia's military aggression against Ukraine she has often visited the front zone as a volunteer (see "Maidan Helped Me to Regain My Fatherland," The Day, March 16, 2015). She is also a co-founder of the German charitable project "Heart for Ukraine" and cooperates with the German NGO "Ukraine-Hilfe Berlin e.V." She also holds the President of Ukraine's award, an anniversary medal "The 25th Anniversary of Ukraine's Independence."
In the kitchen of her Berlin apartment we are having this conversation with Maryna about her most recent trip to Avdiivka.
THE GOAL
"I have been traveling there with a peaceful, cultural mission. I played concerts, practiced music rehabilitation, entertained children with music games and communication. Now we want to extend the project and involve artists in it. For instance, the Israeli-German painter Alan Meier will hold a painting workshop for children. There are awesome people with advanced ideas out there, they only need some support. It is not even so much a matter of financial aid as it is of moral support: simply giving them enough strength to do something. I have already been three times to Avdiivka, and they always keep shooting there. But I had never seen anything like the last time. The locals say they did not either, not since 2015."
INCREDIBLE
"It might be the first time when both the Ministry of Emergencies and the city administration acted competently and coordinately enough. The population was taken care of, the government did not let panic strike (by the way, the media too contributed to it a great deal). Everything was well prepared. The stores were supplied with food. As to relief help, there was even too much of, so a part of it was sent elsewhere. The situation with medicines is also much better than three years ago. There are all necessary medicines for emergencies and for surgeries."
HABIT
"You hear shots, blasts, and at the same time you see people on the street, as if nothing special were going on. Avdiivka does not live up to your expectations of a warfare zone. A lot of kids on the streets, people with shopping bags, someone is sledding.
"People have nowhere to go. Where should they go? You leave, and your life stops. They ignore the war as much as they can, but they are always alert, with one ear pricked in the direction of the promka, the industrial park. Whatever you do, wherever you are, a part of you is always ready to recoil, fall flat, seek shelter. It is excruciating, exhausting, especially for children. That is why moral support is so necessary."
SENTIMENTS
"Politically active people from either camp are in minority. The prevalent majority live like chameleons: changing your color on time is of crucial importance. As long as you survive and have food on your table. Among those who are dismissed as separatists are also various people: some earn their living as spies or spotters, others do it because of their deep convictions. There are families where sons and husbands fight on different sides of the front. Some families break up. But even in Donetsk there are people who risk their lives working for Ukraine or who have pro-Ukrainian views, but who cannot leave. So when people say that we need to build a wall and leave them to their devices, it is wrong. Everyone is a bit of a secret agent there, because you have less fear for a missile than for what can happen to you on a street. Children at school do not sing the national anthem out loud and do not carry flags. Not because they are not patriotically minded, simply because the circumstances are not encouraging. The city is flooded with arms in free circulation. The police are there, but bad guys can simply take you out of the city into the bushes, and no one will ever find you: the earth is stuffed with land mines and any death can be written off as a war casualty. This is another reason to go there: to support people and help them keep their heads high. The more so that some change their stand. Yes, it is scary, and there are only local "DNR" and Russian TV channels, but sooner or later some people begin to understand the truth, there have been examples of enlightenment. I will even go further and say that when the Russian troops withdraw from Donetsk, the same will happen as on other de-occupied territories: the fanatics will run away, some will secure a pardon, and the civilians will again shift allegiance like they did in Kramatorsk and Sloviansk. It is no secret. An acquaintance of mine told me, when we were riding along the streets of Kramatorsk: 'Mind you, the bigger the Ukrainian flag on a car, the stronger separatist sentiment did the owner cherish.' They even can switch over to the Ukrainian language there. They do bear grudges, but they will not show it, as they too want to live, and live well."
AVDIIVKA, FEBRUARY 2017 / REUTERS photo
FEAR
"Avdiivka has never been a center of culture. A smallish city, the usual work-home routine, but when you stay in under shelling and have nothing else to do… We tried to make our evenings as romantic as possible: with candles, tea, and music. I was playing, the children were playing, with explosions outside which we tried to ignore. It is very helpful. Because out there you are like in a state of weightlessness: you never know where you could be safe, you have no idea where to run for shelter. And this is beyond the limits of the scary. This sensation is incomparable to anything else. I still need a long time to process it. Yet at that moment I felt like I had resigned to my fate: come what might."
FATE
"When you pack your bags you drive away the thoughts of your possible death because there are people waiting for you, and you want to go. Eventually it goes away anyway. I try not to give in to it. We were at the very front line and the officer who accompanied us said: 'Look, to the right is the Siverskyi Donets, and across that river there is the end of the world.' I realize that now we are within the shooting range of enemy's snipers. Should I be afraid or not? But if you are afraid, you must not go there; once you do, it is too late to be afraid. Of course, you must always be on your guard. But if you give in to fear, you start panicking, and panic is counterproductive. Besides, life is short, so you have to live it to the full. I believe in fate. If I am to die soon, it might just as well be because of a brick dropped on my head somewhere in Berlin. Look, I travel to the ATO zone but here, not far from my Berlin home, there was a terrorist attack. So I do not really worry about these things. What must happen, will happen. And if it does happen, I at least will have done something useful."
BREAKDOWN
"War affects people in various ways. But first of all it breaks something down in your head. You never come back from war. And later you fail to explain many things. You come home, people ask you, 'What was it like?' and you realize you cannot express it with words. By the way, this is how the demobilized troops start getting into trouble. Some start drinking or doing drugs, because it is impossible to even imagine what they have been through. That is why I go there: at least to help canalize the negative energy. This is not psychological help, but I must prepare people because they try to play cool, and few turn to psychologists for help. At first you must make them open up, so that they could accept help. Art rehabilitation is particularly good at this. They paint, they sculpt, their heads and hands are busy, and they express what they cannot say with words."
FRIENDSHIP
"Avdiivka, the ATO zone are black-and-white places. You see who is who very soon there. The others' lives depend on you, you know. 'I trust you with my life' is no big words, this is the routine. It brings people together, it is friendship on a whole new level.
"I personally worry about the guys with whom we stayed. And for the children who were in our camp last summer. And for all our boys at the front."
DAWN
"This is not a matter of being resolute; this is a matter of what I will be doing if I do not go. How am I going to sleep? I promised, they are waiting for me. And what we are doing is important. When I come back to Berlin, I relax and I work, but then I start to miss terribly the people, the atmosphere, whatever it might be. Like I said, you never come back from war.
"I guess I have become wiser in some ways. I have now a different view on civilian life. At first there were moments when everything drove me mad, especially people's petty problems. Now they do not irritate me, I just feel amused. All your daily nuisances – you just see how tiny they all are and how beautiful life is. The main thing is to survive till dawn breaks."