The Borys Voznytsky Lviv National Art Gallery launched a personal exhibition of the artist
17 February, 2016 - 18:00
Mykhailo Sydorenko's passion for painting has become even closer to his lifestyle, to casual reactions on human and nature; in addition, it is also an incentive for navigating uncharted waters of beauty. Together with his wife Natalia Kruchkevych he seeks the winds of poetic and metaphorical changes that would add freshness to his method of painting, and drive him deeper into aesthetic layers of his own artistic consciousness. The name of the new personal exhibition is "Tete-a-tete" – a symbol of this special status of sublimation, in which the artist's new colorful revelations are born.
Sydorenko's path to such rapid dynamics of self-reflection lies within his character. Finishing the school of Samuel Fleisher Art Memorial (Philadelphia, US), and Philadelphia Sketch Club in 1995, and Lviv Academy of Arts in 1999, the young artist has set the priority of plein-air painting practice, which organically transformed into the systematic studio work with nature in its various genre and theme projections. Many of his works are made outdoors – in mountains of Carpathians and California (US), in the bright and open environment of the Atlantic and later Mediterranean, in the atmosphere of Venice and Paris Montmartre. Thus the power of his painting temperament increasing, and the sensory experience of his are strengthened.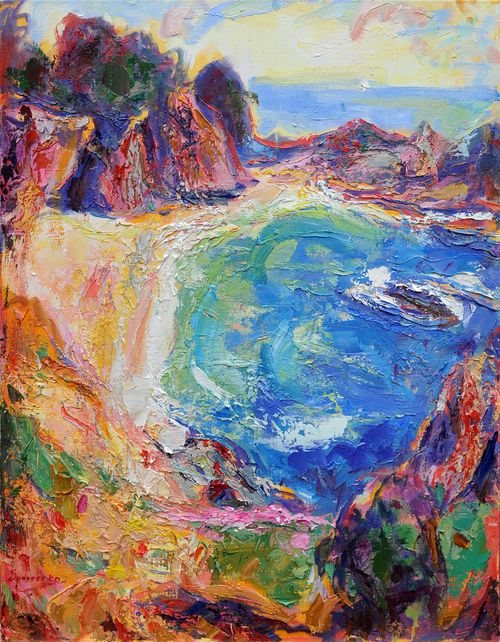 EYE OF THE SEA / Photo courtesy of Mykhailo SYDORENKO
With every new effort, Sydorenko moved away from external formal features of the academic school, while approaching to his own territories of easel painting with classical derivatives from French Impressionism, Post-impressionism, and Colorism. However, this creative period of the Ukrainian artist turned out to be temporary too, as his strong-willed creative character sought symbiosis of subjective and analytical components. The inspiring source would take internal adaptation, would merge with the emotional identity of the artist. The artist had increasingly challenged the principles of plasticity in organization of the canvas as he sought optimal presentation of certain metaphysical states of his soul in a particular moment he experienced. In this way his artistic language has sharpened its detail; the light, color, and texture merged into a single stream of the always unique "aesthetic ecstasy." Thanks to these concerted efforts his works were born, full of passion and vitality.
The paintings of Mykhailo Sydorenko with their distinctly romantic agenda may seem remote from modern socio-cultural context. In fact, the essence of the artist appeals to the eternal values of a human in their quest for universal harmony with nature. The most important in this is the ideological and aesthetic messages of the author.
A nude model in interior, boats at the pier in some Italian town, remote from civilization, majestic and monolithic mountains and canyons, golden domes of Venetian churches – all those compose a holistic platform for values and semantics in the humanistic model of Mykhailo Sydorenko. The artist uses the materialized authenticity of synthetic painting to invite the viewer for a tete-a-tete in a reflection upon the true value of human life.