Podium. Guests. Conclusions
23 March, 2015 - 18:12
Fashion seasons started last week. As The Day wrote earlier, despite the crisis, insane weakening of the hryvnia, and the bleeding wound in the east, Ukrainian designers "tightened their belts" and prepared their forecast for the next fashion season.
The UFW organizers decided to respond to the problems with an even larger scale of events. And instead of the traditional 5 to 7 days, they prepared an 8-day program in this season: 62 designers, 45  shows, 14 special projects, and 7   events in the new Open Fashion project.
And everything would have been good, if not for one thing.
Ukrainian high fashion is still bare and solitary. Its fate depends on the efforts of loners; they are bright, but loners nevertheless. Despite the efforts of the creative couple of Volodymyr Nychyporuk and Iryna Danylevska, during these 18 years the UFW never developed into the phenomenon it should have become.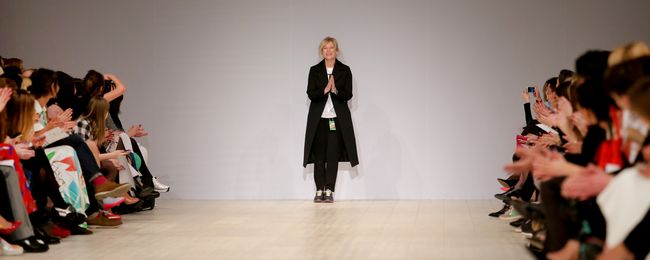 THE 36th UKRAINIAN FASHION WEEK STARTED WITH A SHOW BY THE RENOWNED UKRAINIAN DESIGNER LILIA PUSTOVIT
Ukrainian fashion is already supported by the Western media. In early March, Vogue Italia published an image of the Ukrainian Fashion Week project ORIGINS, created by photographer Dmytro Komissarenko. We would like to remind that The Day is this project's special information partner. Also, author of the classisinternal.com blog Sonya Esman (Canada) and editor-in-chief of Huffington Post Italia Fulvio Ravagnani (Italy) have already arrived to the 36th UFW.
However, clothes by Ukrainian designers (with the exception of several names) are more likely to be found on Hollywood red carpets than in wardrobes of Ukraine's wealthy fashionistas. Could it be that our media write about Ukrainian fashion in a wrong way? Could it be wrong accents? Wrong personalities? No one knows. However, this year there were even fewer public figures (though it seemed impossible) at the UFW opening.
PUSTOVIT IS A SEPARATE STORY
Ukrainian Fashion Week was opened with a collection of a worldwide famous designer Lilia Pustovit.
And Pustovit, who was once revealed for Ukrainians by The Day, is a designer who breaks the passivity of Ukrainian jetsetters in supporting our own, Ukrainian product. If wives of Ukrainian tycoons ever came to UFW, they came to her shows.
Even the first lady of Ukraine, Maryna Poroshenko, is among permanent admirers of Pustovit's work, it was in her studio that the evening gown for the President's inauguration party was created.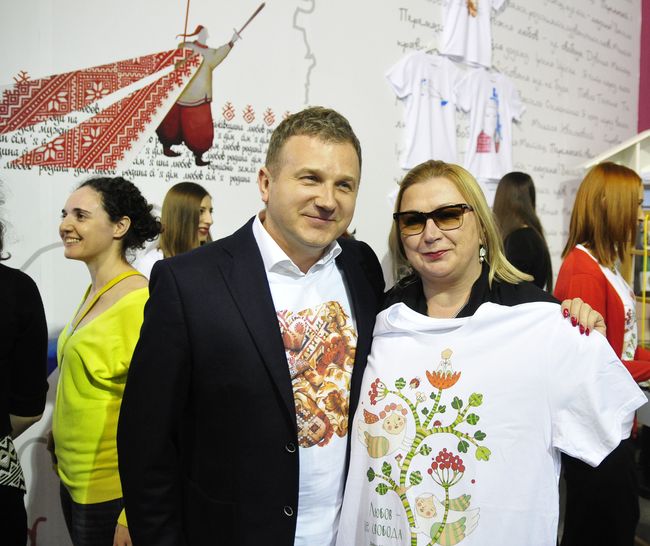 TV CHANNEL 1+1 PRESENTED A SOCIAL FASHION PROJECT AT THE UFW. THE PROCEEDS FROM THE SALES OF T-SHIRTS WITH PRINTS, CASES FOR CELL PHONES, AND POSTCARDS WITH NATIONAL ORNAMENTS WILL GO TO SUPPORT THE UKRAINIAN MILITARY. TV SHOW HOST YURII HORBUNOV CHOSE A T-SHIRT WITH A QUOTE BY VASYL SYMONENKO AND A HEART PRINT, WHILE THE DAY'S EDITOR-IN-CHIEF LARYSA IVSHYNA OPTED FOR A T-SHIRT WITH GUELDER ROSE AND DZVINKA MATIASH'S QUOTE "LOVE IS FREEDOM"
Pustovit's new collection is a mix of the 1970s and the 1990s styles. POUSTOVIT AW'15-16 collection includes trademark dresses with designer patterns and shirt dresses.
As the press-release indicates, this collection was inspired by the principles of contemporary art: bold ideas, combination of contrast colors, and variety of similar images, which transcend from one to another, changing the color and size.
The stylization of the 1970s and 1990s is emphasized by the combination of subdued shades with the bright pop-art palette. Orange, red, light gray, black, and pastel pink colors dominate in the collection.
COMMENTARY
Larysa IVSHYNA, The Day's editor-in-chief:
"I met Lilia after the show. I asked her how Kyiv has changed since she started. Has the environment changed? Could anyone 'catch up' with her? Perhaps even in a different style, but with the same quality. How has the public changed? Whom do journalists approach? Something has changed, of course. Political events have contributed to that considerably. But the general level of culture is still limping badly. And the secret is that 'the old guard' remains old in its essence.
"Lilia is from a different generation, but she is a correct transmitter of impulses. She was also educated in the old school, but she never said that the fact she studied at a Soviet university benefited her. She overcame this transformation on a quality level, from a Soviet university to European space. Those who want to reach something without skills look like newbies. Success must be backed by hard work.
"When Lilia started, her boldness in thinking and her hard work created a lot of obstacles for her, but she won strategically.
"I came up with the following metaphor yesterday: the Kyiv of that time differed little from the DNR or LNR. All things Ukrainian were in total disregard. Only with the efforts of many people it was possible to push the distaste away. It became possible due to Oleh Skrypka and Taras Kompanichenko's vechornytsi, The Country of Dreams, Lilia Pustovit… I always add a person who represents a whole cohort of talented chefs to this company, Denys Komarenko, who knows the Ukrainian cuisine, who has worked in France and came back here to develop gastronomic culture at home. As Lina Kostenko wrote, all these people were brought by The Day 'in the night of statehood' to the front page when there was no one to talk about politics with. And they prepared the Ukrainian Renaissance. Of course, Kostenko's 'spiritual omophorion' is above them all. Her two bright appearances, when she presented The River of Heraclitus, provided a powerful impulse."