Former Kyivite and now the resident of the French city Bagnoles-de-l'Orne for 20 years has been promoting Ukrainian education abroad
31 May, 2017 - 17:48
Olena Mistal's achievements include the establishment of the Ukrainian school in Paris, the Palace of Arts in Normandy, where Ukrainian artists come, as well as the agreement between Bagnoles-de-l'Orne and Ukrainian resort town Khmilnyk.
But Ms. Mistal's activity is not limited to the sphere of education. She has received actress Raisa Nedashkivska, artists Kost Lavro and Mykola Hrokh, tapestry master Liudmyla Zhohol, film producer Volodymyr Filippov as her guests. Pierre Richard wears the embroidered shirt she gave him as a present. When in 2008 Luc Besson was making his action movie Transporter 3, his team requested the Ukrainian embassy to send them a portrait of Ukrainian president, and they were recommended to talk to Ms. Mistal. She found a portrait of the president, the Criminal Code of Ukraine, and bought a military uniform at Kyiv military goods shop, brought it to Paris, brought the passport of her mom whose name is Valentyna, like the heroine's mother. When the film's casting director asked Olena who brought the stage props to the shooting area, whether it was right to find Poles for the supporting roles, and she said, "Why do you need Poles, when I have a school of Ukrainian parents." So, 40 Ukrainians together with Olena performed as extras of Transporter 3, and the film credits feature the gratitude to the Ukrainian school in Paris.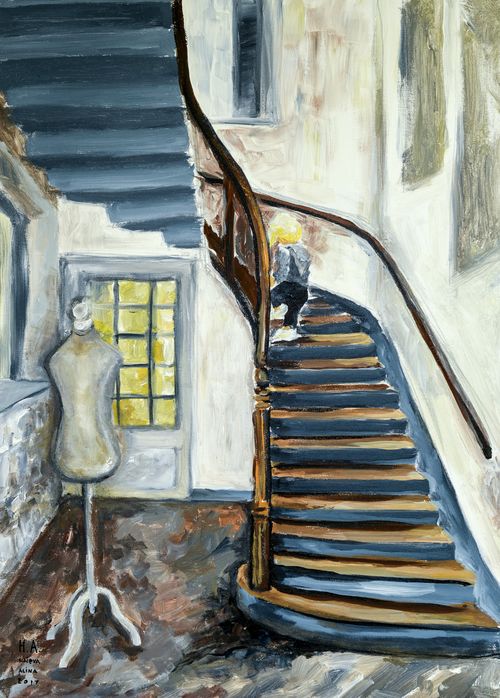 "ART WORKS DON'T NEED TO BE TRANSLATED, WHICH HELPS TO CONVEY INFORMATION AND PREVENTS ANY DIFFICULTIES IN PERCEPTION," ALINA HAIEVA, A DNIPRO-BASED ARTIST, CONSIDERS
We met with Ms. Mistral at the beginning of the past week, immediately after her arrival in Kyiv.
Ms. Olena, could you tell a couple of words about yourself? Your biography is rich as far as I know.
"I'm a Kyivan Parisian, who for 19 years has been developing Ukrainian education in France. I started to work as an educator at the age of 18. I have worked at the Kyiv-based Sukhomlynsky College, and in 1997 opened the International Club of Children's Diplomacy in Kyiv, I ran for the city council to the Committee on the issues of education, I was two votes behind. So I moved to France after 10 years' work in education. I established three Ukrainian-French associations: in 2003, the Art School; in 2005, the Ukrainian Paris School; finally, in Normandy in 2013, the Palace of Arts."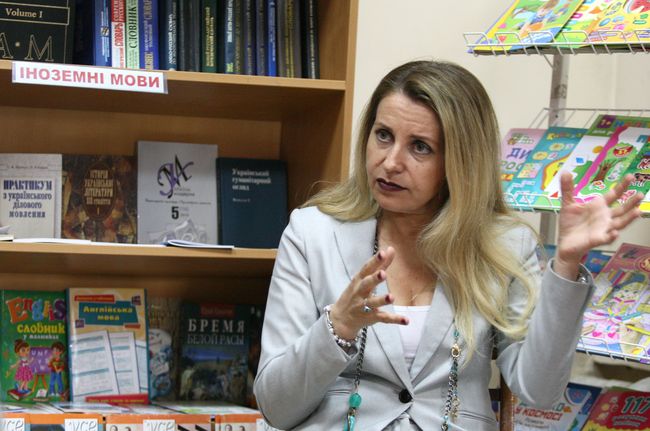 Was education a well-weighed choice?
"At the age of 10, I decided that I wanted to be a teacher. My father was a military serviceman, he served in the Baltic states, in Russia, so I came to Kyiv at the age of 12 from non-Ukrainian environment, but my father signed me for a Ukrainian-language class. He was a patriot and he said that I would succeed. The teacher of Ukrainian Olha Husak made me sit at the first desk and always called me to the blackboard. The first poem I learned in Ukrainian was Pavlo Hrabovsky's 'My hands are going numb, I want to sleep.' My life in Ukrainian education went under this slogan, starting with 1985."
What was the first school where you taught like?
"I was lucky. When I was a 3rd-year student of the Gorky Pedagogical University (in 1988), they were making an experiment – they opened the school No. 272 on the Left Bank and invited the students to work there. I became the teacher in 5-G which included the students who were turned out from other classes. In two years we became the A class, because we were winning and showing good results. I told the kids, 'Don't look at the ground, look up where the sun is shining.' We were trying to work together."
A CELEBRATED MASTER VOLODYMYR KOZIUK IS DEDICATED ONLY TO ONE GENRE, LANDSCAPE. THE ARTIST REGULARLY REVEALS NEW IMAGES AND PAINTING METHODS, SHOWING THE RICHNESS OF TOPICS AND PLOTS FOR HIMSELF AND THE AUDIENCE
Which students do you remember the best?
"There was a boy called Andrii Kuzmenko. He was a tall blonde, very non-standard. Usually teachers make such students sit at the last row; because he needed more attention, he was sitting at the front row with the honored student Liuba. Liuba now has two children. She is a banking specialist, she defended a diploma in France. Andrii, an Alpha Lieutenant Colonel was shot down in Obolon in 2015 during a special operation, when a woman and child were taken hostage. He turned out to be a very good person. His wife said he loved me a lot."
Who are the students of the Ukrainian Paris School?
"There are 100 students, mostly the children of Ukrainian diplomats. It's the only school in France that issues a Ukrainian diploma. Overall, there are 44 schools like this abroad. We are teaching children as a private school, and upon the graduation they may have two diplomas, both French and Ukrainian."
Are there French children among your students?
"Children born from mixed marriages in France, yes. We have a kindergarten and a library. People who live in France on a regular basis don't need the Ukrainian diploma, but they learn Ukrainian language, music, choreography, and then can read in Ukrainian, that's the most important thing."
What is the Palace of Arts?
"In a sense, it's a boarding school. The children can go there for the term between 1 to 6 months. They live in French families. They learn French, but they keep the diploma. In general the Palace of Arts is mastering different arts and crafts, such as cooking, architecture, design, drawing, in order to understand how to live in this world. We rent different castles for summer camps. Since 2011, hundreds of children have come to our school. We are friends with the French school in Pushcha-Vodytsia, their children come to our program for practice. For example, recently they've visited seven castles over seven days, from Louvre to Normandy. However, our base is located in the Normandy town Bagnoles-de-l'Orne where I reside. The cooperation is so intensive that the mayor of the town has hung a Ukrainian flag."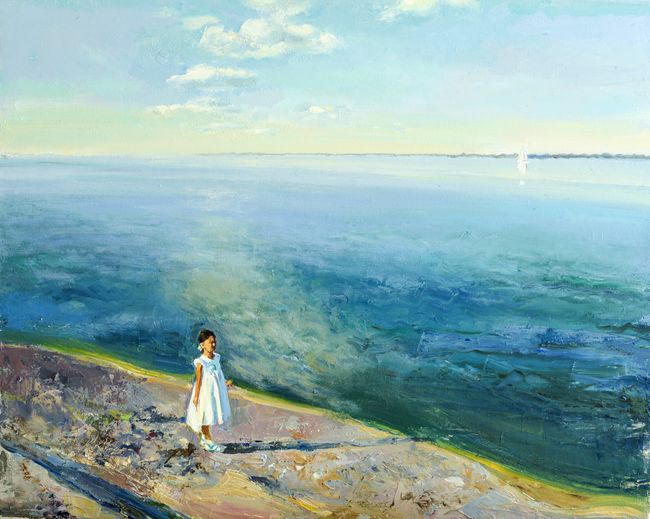 THE ARTISTS CREATED A SERIES OF WORKS AT THE INTERNATIONAL OPEN-AIR EVENT. A WORK BY OLHA ZAITSEVA
What has brought you to Ukraine this time?
"The project 'Youth-3' – studies of Ukrainians and Moldovans in France in different directions: agrarian, medicine, hotel-tourism business, IT. My mission here and now is to select partners for this project. I hope to find a corner where I could live, because I am going to visit Kyiv with this project on a monthly basis. We will involve young people aged between 16 and 30 who know French. For the first time our small town has submitted such a big project. Therefore I hold meetings with the Ministry of Foreign Affairs, the Ministry of Education, and the mayor's office. I want to submit this project for the small towns, before September we're going to select the higher educational institutions which will take part in the project. France is financing 70 percent, Ukraine and Moldova – 15 percent each. Hope to persuade the state officials. Tens of rectors can and are eager to help."
Another action you've organized is the open-air event "Impressionism: Ukrainian version" with the participation of Ukrainian artists in Normandy. How did you come up with this idea?
"I have been taking children to impressionist open-air events since 2010. Past year we decided to organize such event for adults. Today in Kyiv I'm going to award the diplomas of the Bagnoles-de-l'Orne mayor's house to Ukrainian artists for the participation in this open-air event. Incidentally, not only Kyiv was represented there, but also Vinnytsia, Mukachevo, and Simferopol. That was indeed a big group, including 11 professional artists, 3 amateurs, 2 journalists, 3 children, who were painting as well or performed at the art residence Chateau Des Arts. That was an interesting experiment, to get inspired by the Normandy landscapes, where impressionism as a genre takes its origins, and work at an open air event from early morning till late night, sometimes under the rain. We had planned to make 70 works, but as a result we had 130! Instead of two tours, we organized five ones, including the famous Claude Monet's garden in Giverny. We organized a vernissage in Bagnoles-de-l'Orne and an exhibit in Paris. We have even sold some of the works, and I am very proud of this. For this is the recognition of the talent of our artists by the French. Moreover, this communication through painting is cultural diplomacy in action. Currently it is very important for Ukraine, and it is great that these events are not instructed from above, they are not organized just to observe formalities, but it is people's initiative."
Isn't it boring to live in a quiet resort town?
"Judge for yourself. The population of Bagnoles-de-l'Orne is less than 3,000 people, the budget is 12 million euros. Some 500,000 tourists come there on an annual basis. People live on rent. But the largest part of the taxes from the hotels and casinos stays in the local budget, and that's the most important thing. That's why we have a free bus, because it is paid from the taxes, a wonderful cinema, every Friday the mayor's office organizes free concerts and discos. There are cabs, orchestra come on a regular basis, plays are staged. All the activities beyond school are funded by the mayor's office, all the school clubs as well. By the way, I am teaching plastic arts there. A total of 62 sports and cultural associations are operating in the town. We have golf competitions, a stage of the cycle race Tour de France is held there, as well as the Tarot Cards Championship of France, there is also a hippodrome. There are festivals of jazz, Harley Davidson motorcycles, the Belle Epoque style. Generally, Normandy is called the 21st district of Paris. The entry roads are jammed at the weekends, and on Sunday, the exit roads, too."
What are your plans for the near future?
"I have an idea of art express, I submit it to the French railways, so that we could have an art train. We would travel across France, sleep there at night, and learning and traveling in daytime. We have a castle, now we need a train."
How do you cope with everything? So much work.
"Of course, it is hard. I never liked to explain anything, preferring to do everything myself. But finally I've started to trust my assistants and partners on the international projects more."
Do you consider yourself a French, a Ukrainian, or a citizen of the world?
"I devised a self-definition: a Kyivan Parisian, a Parisian Kyivite."
What are your hobbies?
"I like to rummage in secondhand bookshops and look for rare publications. Books are everything for me. I don't like to read from computers. I like to write out something and read. I often stay alone in my room and read. I have a dream, to write short stories of Kyivan Parisian."